Germany has good relations with Taiwan and intends to expand them on various issues, a German Federal Foreign Office official said on Monday, calling for the cross-strait "status quo" to be preserved.
Petra Sigmund, director-general for East Asia, Southeast Asia and the Pacific at the Federal Foreign Office, made the remarks in a keynote speech at the Second Berlin Taiwan Conference.
The conference, held on Monday and yesterday at the German capital, was organized by Reinhard Butikofer, a German member of the European Parliament and chairman of the parliament's Delegation for Relations with the People's Republic of China.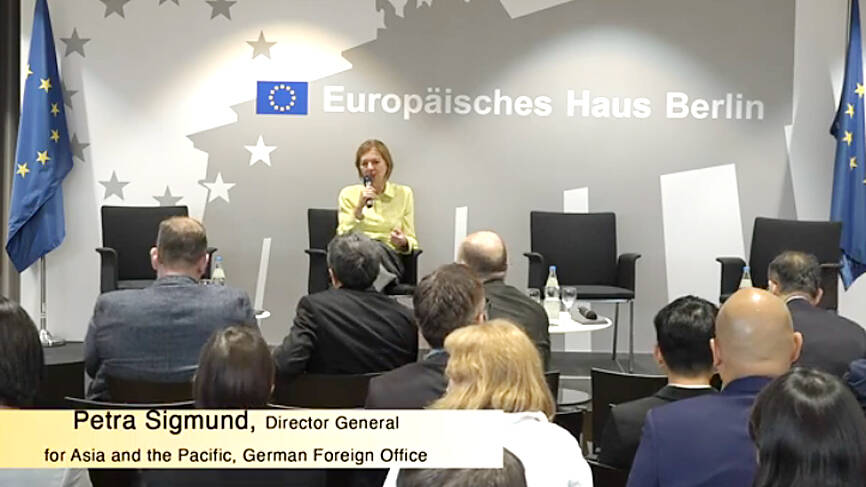 Petra Sigmund, director-general for East Asia, Southeast Asia and the Pacific at the German Federal Foreign Office, speaks on stage at the Second Berlin Taiwan Conference on Monday in the German capital.
Photo: Screengrab from Reinhard Butikofer's YouTube channel
The main purpose of the conference is "to make Taiwan more visible as the lively, strong, vibrant democracy that it is" and "to demonstrate that there is a lot of support, even a growing support, for the solidarity with Taiwan's democracy," Sigmund said.
Support for Taiwan has been increasing in Germany, which has become more aware of the "need to engage with Taiwan," she said, adding that she is proud to see this development.
Germany has no diplomatic relations with Taiwan, but has maintained "good relations with Taiwan in so many areas," Sigmund said, adding that it wants this relationship to expand and flourish.
While the European nation upholds a "one China" policy, it does not mean it would have no contact with Taiwan, but rather "contacts up to a ministerial level in many areas," she said.
Taiwan welcomed the first German government minister to visit the nation in 26 years when German Minister of Education and Research Bettina Stark-Watzinger arrived in Taiwan in March.
Germany's "one China" policy is "not the same as the 'one China' principle, of whose existence we don't know," she said, adding: "We wouldn't say there is one."
In accordance with the German Basic Law, certain German leaders — such as the foreign minister, defense minister, chancellor and president — may not have contact with their Taiwanese counterparts, she said.
"But that leaves a whole big space open for contacts with all the other institutions, and we intend to use that space," she added.
The relationship with Taiwan "is so worthwhile, so important for us," she said.
Germany supports "issue-specific involvement of Taiwan in international organizations," calling on Taipei's participation in international conferences and exchanges on global issues "where it really wouldn't be wise to omit Taiwan," she said.
Sigmund underlined the importance of preserving the cross-strait "status quo," which can only be changed through peaceful means and by mutual consent.
Military escalation in the region would also affect German and European interests, she added.
While admitting that the "status quo" is not 100 percent satisfactory to either side of the Taiwan Strait, "we think the status quo is a good status quo that should be kept," she said.
Speaking at the same event, Deputy Minister of Foreign Affairs Roy Lee (李淳) talked about China's attempts to intervene in Taiwan's presidential election in January next year and the challenges it poses to the cross-strait "status quo."
"We often joke here in Taiwan that since they [China] like to participate [in Taiwan's election] so much, it will be better to hold their own elections," he said.
Lee called on the international community to demonstrate steadfast, long-term support for Taiwan to deter China from escalating military threats against the nation.
He also suggested European countries formulate a Taiwan strategy or a Taiwan policy that sees Taiwan as "a normal partner in the Indo-Pacific" rather than a part of a broader China policy, which could help security and economic de-risking.


Source: Taipei Times - 2023/11/15