Taiwan yesterday inked an Enhanced Trade Partnership (ETP) deal with the UK, marking the nation's first trade framework agreement with a European country, the Executive Yuan's Office of Trade Negotiations said.
The agreement was signed in a teleconference by Minister Without Portfolio John Deng (鄧振中), who heads the office, Representative to the UK Kelly Hsieh (謝武樵) and British officials, Deng and Hsieh said in a joint statement.
The ETP showed the growth of Taiwan-UK economic ties and provided a guideline for Taipei and London to conduct trade talks, they said.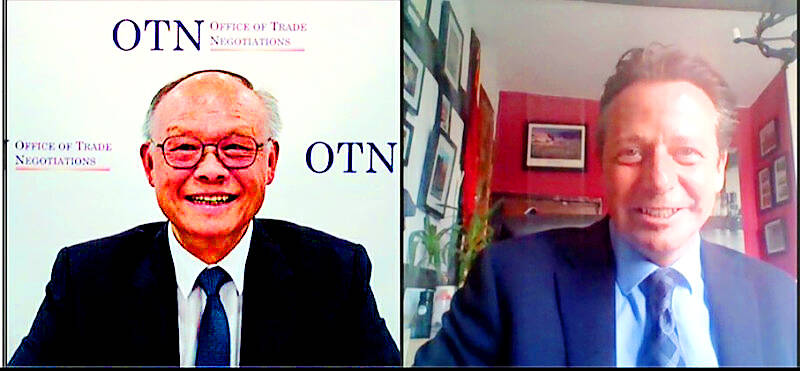 Minister Without Portfolio John Deng, left, and British Minister of State for International Trade Nigel Huddleston speak by videoconference in July.
Photo courtesy of the Office of Trade Negotiations
Taiwan plans to continue its discussions with the UK over collaborations in digital trade, investment and net zero emissions, they said.
Taipei hopes to expand the scope of bilateral cooperation with London after meeting these objectives, they said.
Establishing economic ties with the UK — which is poised to join the Comprehensive and Progressive Agreement for Trans-Pacific Partnership (CPTPP) — would boost Taiwan's chances in its bid to become a member of that trade pact, Deng said.
The UK is a trade powerhouse and the world's sixth-biggest economy, and is searching for economic partners following its exit from the EU, he said, adding that the UK continues to be a force in global commerce and politics.
Taiwan's economic needs are compatible with the requirements of the UK, which is a world leader in biotechnology, energy, vehicle manufacturing, artificial intelligence and banking, he said.
London's trade outreach to the Indo-Pacific region has created favorable conditions for Taiwan to expand its international commerce, Deng said.
The Executive Yuan is to remain in touch with industries that can benefit from any Taiwan-UK economic agreements, as it negotiates them with London, the office said.
The government would promote sustainability, gender equality, corporate social responsibility and consumer protection standards as it seeks closer economic ties with the UK, it said.
Taipei and London began talks on the ETP in July, with Deng taking the lead in negotiations. His counterpart was British Minister of State for International Trade Nigel Huddleston.
The office previously said that the ETP might be expanded — with a free trade agreement (FTA) being its ultimate goal.
However, the path from ETP to FTA is not straightforward, it said, adding that India and the UK signed an ETP agreement in 2021, but an FTA has yet to materialize.
President Tsai Ing-wen (蔡英文) earlier this year urged World Taiwanese Chambers of Commerce members to exert their influence to help the nation's bid to become a CPTPP member, citing the need to make the economy more resilient.


Source: Taipei Times - 2023/11/09