The government would closely monitor Chinese spouses who have been coordinating with the Chinese Communist Party (CCP) to engage in "united front" work against Taiwan, or have been receiving funding from the CCP to establish pro-unification organizations, National Security Bureau Director-General Tsai Ming-yen (蔡明彥) said yesterday.
"The bureau's position is very clear. We respect Chinese spouses as long as they engage in legal activities in Taiwan, but we will closely monitor those who have been coordinating with the Chinese government on united front work against Taiwan, hosting cross-strait exchanges for political purposes and receiving sponsorships from Beijing to establish pro-unification groups," Tsai told reporters before attending a meeting of the legislature's Foreign Affairs and National Defense Committee.
"If there is substantial evidence showing that they are agents for the Chinese government, we would turn the case over to the justice system to be investigated," he said.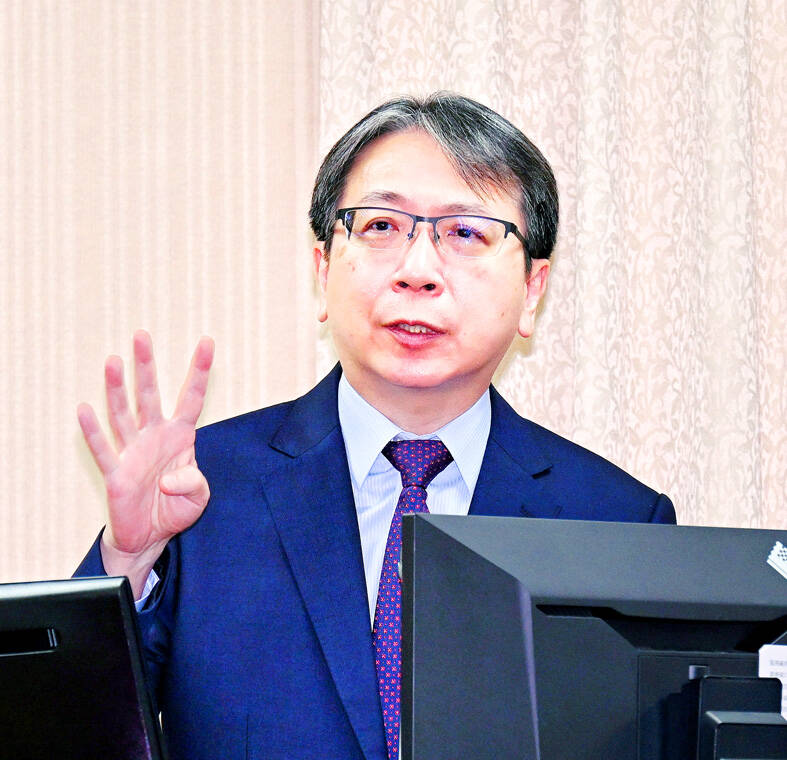 National Security Bureau Director-General Tsai Ming-yen speaks at a Foreign Affairs and National Defense Committee meeting at the Legislative Yuan in Taipei yesterday.
Photo: Fang Pin-chao, Taipei Times
Activities of Chinese spouses in Taiwan came under scrutiny after the Taiwan People's Party was reported to be considering listing Taiwan New Residents Development Association chairwoman Xu Chunying (徐春鶯) as one of the party's legislators-at-large.
A video circulating online shows her and a group of Chinese who have married Taiwanese wearing scarves resembling those worn by China's Red Guards in the 1960s and singing the praise of former Chinese leader Mao Zedong (毛澤東).
Xu defended herself on Sunday, saying she was never a member of the Chinese Communist Party (CCP) or the Communist Youth League of China.
Tsai yesterday said that some heads of polling companies and academics are visiting China at the CCP's invitation, and some polling companies' funding comes from Chinese capital.
The bureau is investigating these money flows, he added.
If visits to China by academics and political commentators are "normal exchanges," the bureau would not intervene, Tsai said.
However, if there are "abnormal situations, the bureau is keeping an eye," he said, without elaborating.
China is using various methods to interfere in January's presidential and legislative elections, Tsai said.
For example, misinformation in the form of short video clips generated by artificial intelligence is circulating on social media, he said.
Groups and political commentators are also being invited to attend forums in China, which the CCP is filming and circulating online, Tsai said.
Asked by Democratic Progressive Party Legislator Liu Shyh-fang (劉世芳) whether the bureau can release the names of these political commentators, Tsai said that it has the online situation under control.
Once presidential hopefuls officially register their candidacies and launch their election campaigns, people suspected of irregularities would be investigated for contravening the Anti-infiltration Act (反滲透法), he added.


Source: Taipei Times - 2023/11/07