Taiwan New Residents Development Association chairwoman Xu Chunying (徐春鶯), rumored to be on the Taiwan People's Party's (TPP) planned list of legislators-at-large, was seen in a video clip wearing a red scarf similar to those worn by China's Red Guards, singing the praise of former Chinese leader Mao Zedong (毛澤東).
In the clip posted on Friday by a Facebook page called "One more step," Xu was filmed with a group of Chinese who have married Taiwanese spouses, singing: I Love Beijing Tiananmen (我愛北京天安門), with red scarves around their necks, resembling those China's Red Guards wore in the 1960s.
According to Wikipedia, I Love Beijing Tiananmen is a children's song written during China's Cultural Revolution.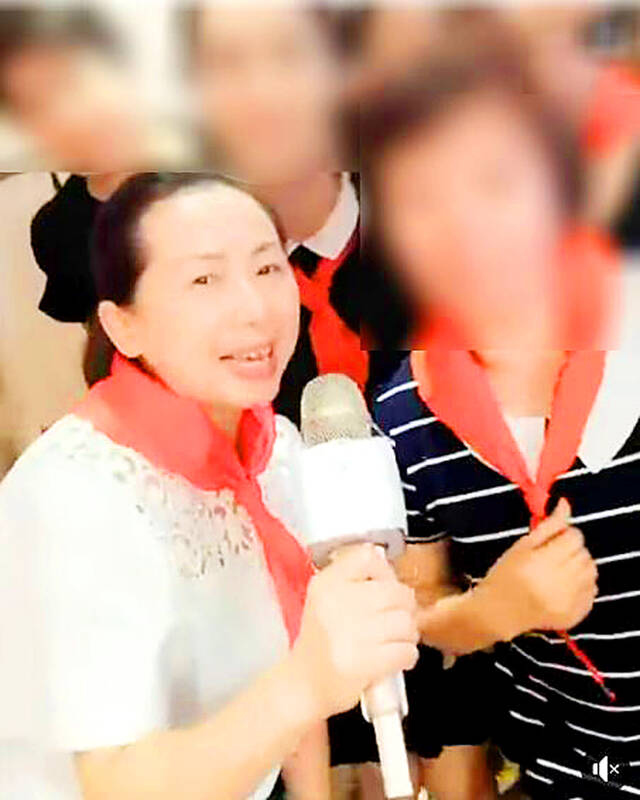 Taiwan New Residents' Development Association chairwoman Xu Chunying, left, is pictured wearing a red scarf in a screenshot taken from video footage.
Photo: Screen grab from YouTube
In response, Xu yesterday said the event took place on June 1, 2018, adding that it was a gathering of about 20 Chinese women at a restaurant in Taipei, welcoming back friends returning from Shanghai.
The day coincided with China's Children's Day, so one of the women brought red scarves back for everyone to wear and entertain themselves with children's songs.
"It was a song celebrating Children's Day, a reminiscence of our childhood," Xu said. "Doesn't anyone have childhood memories? Why does anyone have to be so cruelly paint us with [a pro-China] red brush?"
The TPP has taken flak for its rumored selection of Xu, an advocate for foreign-born spouses married to Taiwanese, for a party-list legislator-at-large seat.
The TPP has yet to confirm Xu's selection, with TPP Chairman and presidential nominee Ko Wen-je (柯文哲) stating she was merely "under consideration" for a spot.


Source: Taipei Times - 2023/11/05