China is targeting projects to enhance public spaces in its "united front" tactics, a lawmaker said yesterday after New Taipei City-based cultural conservation group Am Kehnn Cultural Workshop (暗坑文化工作室) said that Beijing has conducted a covert campaign to infiltrate Taiwanese placemaking projects.
Taiwan's placemaking scene is awash with Chinese money, Am Kehnn Cultural Workshop wrote on Facebook on Thursday, adding that almost every region in the nation was among the winners at a cross-strait construction and creation contest held by China's Fujian Province.
Beijing's campaign to fund projects to enhance public spaces poses a greater danger to Taiwan than its support of local temples, as people who run the projects tend to be highly influential members of their communities, the group said.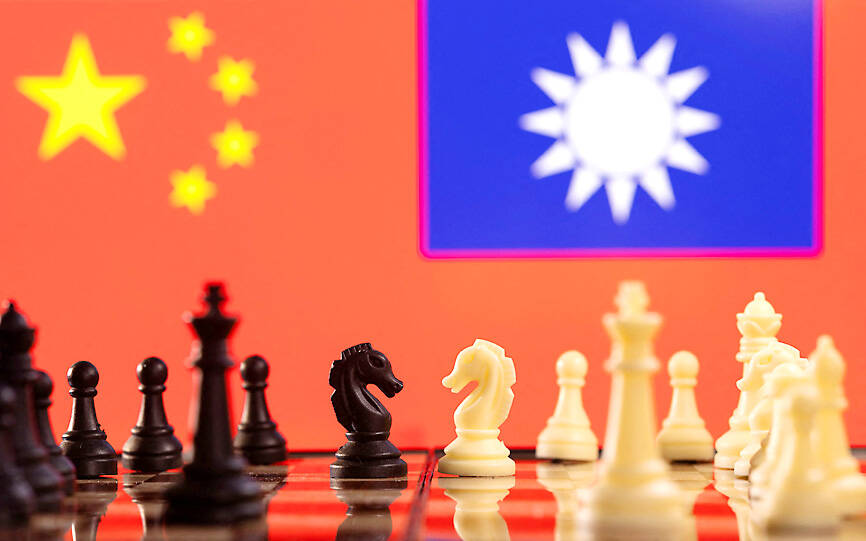 Chess pieces are pictured with the flags of Taiwan and China in an arranged photograph taken on Jan. 25 last year.
Photo: Reuters
Chinese infiltration targeting Taiwan's grassroots efforts to renovate local communities, mainly headed by the Fujian provincial government, appeared to focus on poaching Taiwanese talent, buying the support of local grassroots organizations and spreading pro-China narratives, the group said.
Chinese state-run news Web platform People.cn reported that Fujian has recruited 95 Taiwanese architectural and cultural industry entities and 300 people in related fields to work for the province's own placemaking initiatives, the group said.
On Friday, the group named dozens of entities that allegedly received funding from Fujian. The list comprised mostly local businesses and education institutions, including Dayeh University in Changhua County and Tunghai University in Taichung.
The group cited information from the cross-strait construction and creation contest and public announcements of the universities' exchange programs as evidence.
The competition cannot be said to be apolitical, as Article 9 of the event's governing charter stipulates that placemaking projects that compromise Chinese national secrets or have negative social effects are to be excluded from consideration, it said.
The rule is a veiled reference to prevent projects that express Taiwanese localism from winning, it said.
Its rules also stipulate that the event should be broadly promoted by the media, showing that it was part of Beijng's so-called "great external propaganda efforts," Am Kehnn Cultural Workshop said.
Democratic Progressive Party Legislator Wang Ting-yu (王定宇) yesterday said that the targeting of placemaking was a new development in China's continued "united front" tactics.
By providing financial support, Beijing seeks to build rapport with the nation's cultural industry, which would be a useful instrument to broaden China's influence over ordinary people, Wang said.
Beijing's willingness to spend money on the cultural industry in Taiwan when nearly 300 million rural Chinese are on the poverty line shows that its efforts are intended to undermine Taiwan, he said.


Source: Taipei Times - 2023/08/06