The Taiwan People's Party (TPP) yesterday decided to remove a controversial slogan — "Vote White, Vote Right" — from its Web site after the wording was criticized as being similar to that used by US white supremacist groups.
TPP spokeswoman Lin Tzu-yu (林子宇) told a news conference that the slogan had referred to the color white that the TPP brands itself with.
"It was supposed to mean that a vote for the 'power of white' is the right choice," she said.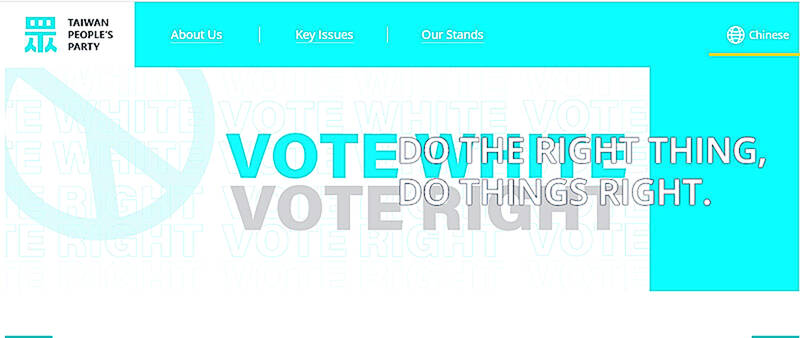 A screen grab from the Taiwan People's Party's English-language Web site is pictured on Sunday.
Photo: screen grab from the Taiwan People's Party Web site
Lin denied that it was associated with white supremacy, saying Taiwanese do not have the concept of "white supremacy."
However, the slogan has since drawn "different opinions" online and from "friends from the West," and so the party decided to remove it, Lin said.
Taipei-based freelance journalist Erin Hale said the slogan would be uncomfortable for Americans because it sounds like the language used by white supremacists or the Ku Klux Klan.
Hale said the slogan is the same as that used by a now long-defunct US white supremacist party.
She appeared to be referring to the National States' Rights Party.
Founded in 1958 by Edward Reed Fields in Knoxville, Tennessee, the party was built on antisemitism, racism and opposition to integration, and was known for its "Vote Right — Vote White" slogan before its dissolution in 1987.
Taiwan-based podcast Bailingguo News on Sunday also shared a screen shot on Facebook of the TPP's slogan.
"Are you sure you want to write that on the TPP's official English site?" the podcasters wrote in the post, as some commented that "not even [former US president Donald] Trump would have the guts" to use such a slogan.
TPP Legislator Lai Hsiang-ling (賴香伶) commented on the post in English, tagging Trump to ask if he would "dare" to say it.
In response, Lin yesterday said Lai's Facebook page administrator tagged Trump because they were "too eager to convey to American politicians" that "Vote White, Vote Right" expressed by the TPP is not meant to advocate white nationalism or far-right politics.
The slogan has since been taken down from the TPP's Web site and has been replaced with "Do the Right Thing, Do Things Right."
The TPP was established on Aug. 6, 2019, by former Taipei mayor Ko Wen-je (柯文哲), who serves as its chairman.
Ko is running in the presidential election in January next year against Vice President William Lai (賴清德) of the Democratic Progressive Party and Hou You-yi (侯友宜) of the Chinese Nationalist Party (KMT).
Additional reporting by Huang Ching-hsuan


Source: Taipei Times - 2023/08/01