A diabolo instructor, Lu Chi-hsien (魯紀賢), and four retired military personnel were yesterday detained after a court hearing on suspicion of forming a spy network for China.
The Taipei District Prosecutors' Office, along with the Ministry of Justice Investigation Bureau (MJIB) and New Taipei City police, on Wednesday conducted 25 searches, including six at military units, questioned seven suspects and interviewed 11 witnesses.
The five are suspected of "contacting, enticing and recruiting" military personnel from April last year to obtain military intelligence in contravention of the National Security Act (國家安全法), Taipei Deputy Head Prosecutor Tsai Wei-yi (蔡偉逸) said.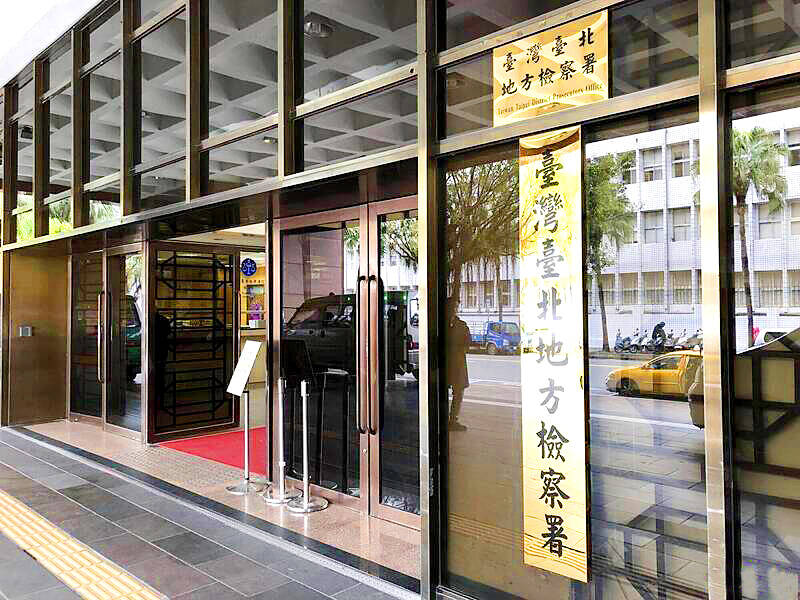 The entrance to the Taipei District Prosecutors' Office is pictured in an undated photograph.
Photo: Chien Li-chung, Taipei Times
Investigations showed that after retiring from the army, Lu was recruited by Chinese intelligence officers, who offered him money to use his connection and friends still in active service to obtain classified materials and recruit others to form a spy network, Tsai said, adding that his unusual activities drew the attention of the MJIB's National Security Operation Division.
This case shows that Chinese espionage has found a new way of infiltrating Taiwan and recruiting new members, with Lu focusing on pawnshops, money lenders and loan-shark operations near army bases, where he could find soldiers or officers who needed money or were having problems paying debts, Tsai said.
With the help of old friends and other officers, Lu was able to hook up with potential targets, offering them money to pay off debts or loans, he said.
Lu was able to entice more than 10 lower-ranked military personnel into working for the espionage ring, instructing them to gather classified documents at their service units or any confidential information they could access and handing them over to Lu, who then passed it on to his Chinese handlers, Tsai said.
After a bail hearing, Lu and four other retired military personnel — two men surnamed Lee (李) and Chang (常), and two women surnamed Lin (林) — were listed as suspects and denied bail.
Another suspect, Kuo-ting (郭伯廷), was released on NT$200,000 bail, with media reports identifying him as the younger brother of singer and actress Kuo Shu-yao (郭書瑤).
With the revelation of another spy ring operating in Taiwan drawing criticism, the Ministry of National Defense yesterday released a statement saying that "military personnel have helped the investigation with their tip-offs, and we are currently cooperating with national security agencies in the probe."
It added that it cannot comment on an ongoing investigation.
Taipei prosecutors said that Lu, a well-known diabolo instructor, had served on the board of the Republic of China Diabolo Federation.
However, Lu used his position at the federation to engage in several fraud schemes, including deceiving investors and companies that Taiwan was to host the "2021 Diabolo World Cup," and collecting NT$13.18 million (US$424,108) in funds, they said.
Convicted on four charges of fraud, Lu was in March sentenced to five years and four months in prison.
However, he did not show up on the day he was to start his term and was placed on the wanted list until his arrest on Wednesday, they said.
Additional reporting by Chien Li-chung and Kayleigh Madjar


Source: Taipei Times - 2023/07/21