A proposed expansion to the American Institute in Taiwan (AIT) compound in Taipei aims to reinforce the US' "rock-solid commitment to Taiwan," the AIT said on Wednesday.
"Due to the United States and Taiwan's strong relationship, AIT plans to increase its staff to further support commercial, cultural, and other relations between the people of the United States and the people on Taiwan," an AIT spokesperson said in an e-mailed statement.
"The vacant land adjacent to AIT presents an extraordinary opportunity to provide for AIT's long-term future growth in a single, central, and secure location and reinforces America's rock-solid commitment to Taiwan," they said.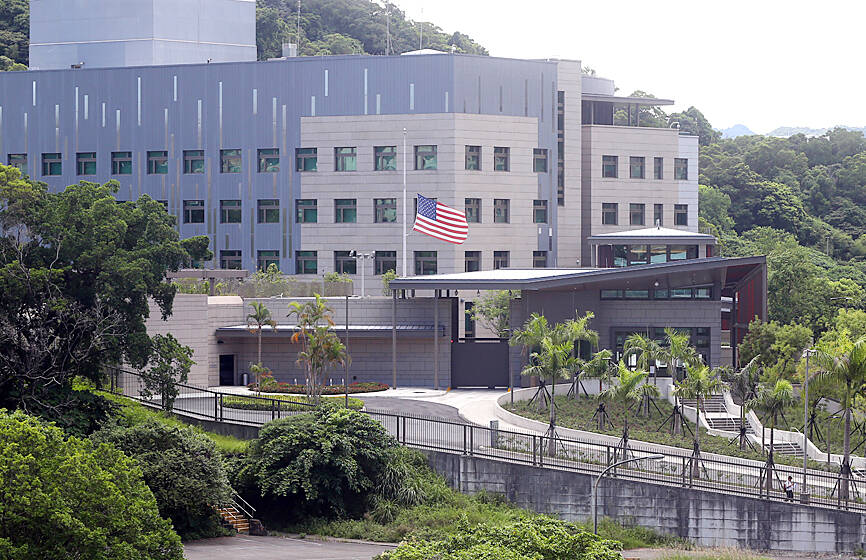 The American Institute in Taiwan compound in Taipei's Neihu District is pictured on July 31, 2020.
Photo: CNA
The AIT, the US' de facto embassy in Taiwan, was responding to a media report that some of the local residents living near the AIT's compound in Neihu District (內湖) were unhappy about the expansion plan, saying the land should be used to benefit the local community.
The AIT spokesperson said the land would be used for additional office and warehouse space, a recreational center for AIT employees and a parking facility.
Qingbai Borough (清白) Warden Chen Tung-yuan (陳東源) told the Chinese-language United Daily News that local residents had thought the land would be used to build a junior high school.
However, the Taipei City Government recently notified his office that the Ministry of Foreign Affairs and the AIT would hold a public hearing on Wednesday next week to explain the AIT's proposal, the newspaper reported.
Chen said local residents were worried that the expansion would affect their quality of life and also wondered why they were not informed about the expansion project before.
The residents accused the central government of paying more attention to the needs of the US government than to those of Taiwanese, the report said.
The ministry in a statement said that it has been offering assistance to the AIT on its expansion proposal, but added that it would follow urban planning laws in doing so.
The AIT, a private entity managing US relations with Taiwan in the absence of formal diplomatic ties, was formed in 1979 after Washington switched recognition from Taipei to Beijing.
It is headquartered in Virginia, but has a main office in Taipei and a branch office in Kaohsiung.
After operating for 40 years at its old offices on Xinyi Road in downtown Taipei, the AIT moved to the US$250 million compound in May 2019.


Source: Taipei Times - 2023/07/06