The Ministry of National Defense plans to increase the production of anti-ship missiles from this year to 2025 to bolster the nation's maritime defenses, an official said yesterday.
The extended-range variant of the Hsiung Feng III anti-ship missile is entering mass production this year, while the production volume of the Hsiung Feng II and the base model of the Hsiung Feng III is to be ramped up, the official said, speaking on condition of anonymity.
The estimated cost for the missiles this year is NT$15.5 billion (US$497.83 million), rising to NT$19.8 billion next year before peaking at NT$22 billion in 2025, they said.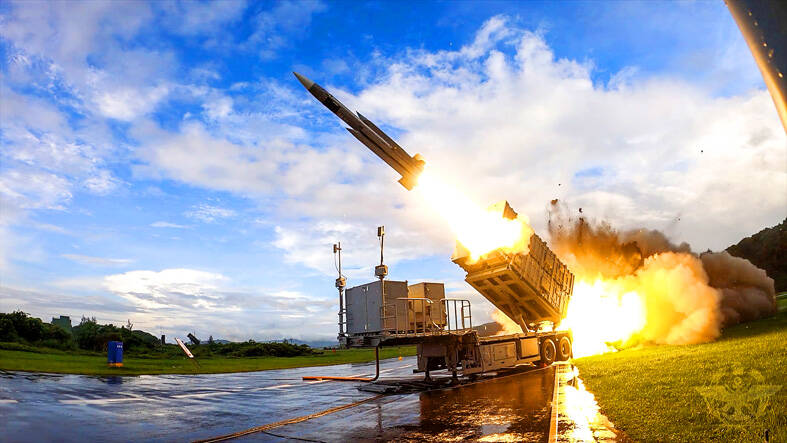 A Taiwan-made Hsiung Feng III medium-range supersonic missile is launched during a joint missile enhancement drill between the navy and air force in Pingtung County on May 24 last year.
Photo: EPA-EFE / Ministry of Defense / Handout
The ministry's plan to increase its supply of anti-ship missiles comes as the Chinese People's Liberation Army Navy accelerates its shipbuilding programs and conducts military exercises in the waters around Taiwan, they said.
The military considers anti-ship missiles the most direct and effective weapon system to check Chinese naval forces, the official said, adding that missile systems are to be deployed throughout the nation.
The Hsiung Feng II missile variant has a standard engagement range of 148km, while the new variant of the Hsiung Feng II missile being produced has a range of 160km to 200km, improved maneuverability and its electronic countermeasures are on par with Western systems, they said.
The Hsiung Feng III currently being used has a standard engagement range of 150km to 200km, while the extended-range variant has an effective range of 400km, the official said.
The improved Hsiung Feng III missiles are expected to significantly boost the engagement range of the nation's anti-ship weapons and enhance the military's ability to strike targets in seas to the north, south and east of Taiwan proper, they said.
The nation is on track to produce more than 1,000 anti-ship missiles by 2026, which is the last year of the Sea-Air Combat Power Improvement Plan, the ministry told the legislature in a previous report.
The defense industry has the capacity to produce 201 missile systems per year, including 131 Hsiung Feng II or Hsiung Sheng missiles, which share an assembly line, and 70 Hsiung Feng III missiles of the base or extended range variant, it said.


Source: Taipei Times - 2023/07/02