President Tsai Ing-wen (蔡英文) yesterday underscored her administration's intent to cement Taiwan-US relations as she welcomed a delegation of US lawmakers led by US Representative Mike Rogers, chairman of the US House of Representatives Armed Services Committee.
"We thank the US Congress for consistently showing bipartisan concern for Taiwan's security and its show of support [for the nation] through concrete actions," Tsai told the delegation at the Presidential Office in Taipei.
The nation expresses gratitude to committee members for their continued efforts to "include policy measures in the annual renewal of the National Defense Authorization Act that enhanced Taiwan's defensive capabilities," she said.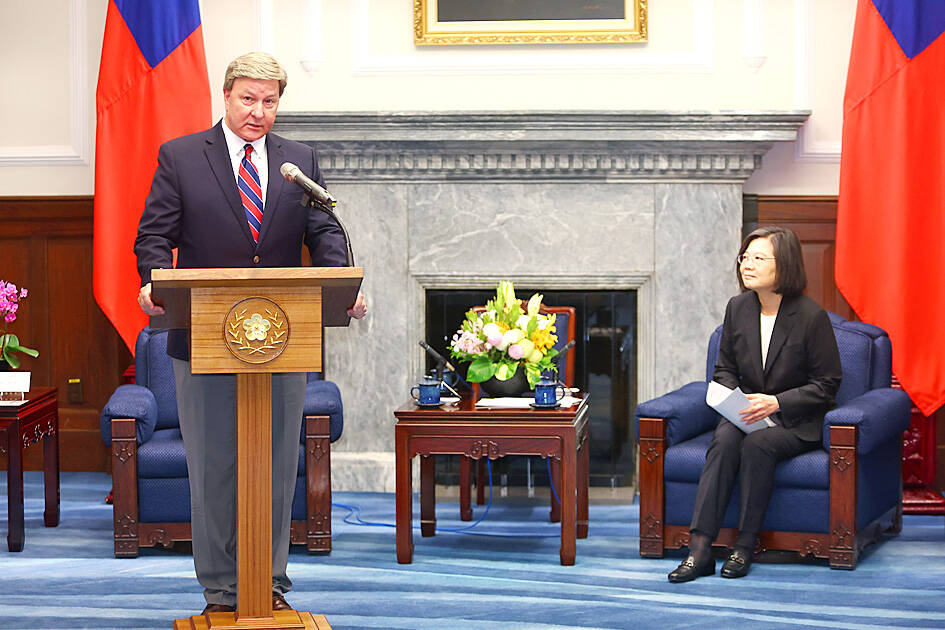 President Tsai Ing-wen, right, looks on as US Representative Mike Rogers, chairman of the US House of Representatives Armed Services Committee, speaks at the Presidential Office in Taipei yesterday.
Photo: CNA
"Deepening the security cooperation between Taiwan and the US is crucial for maintaining the security of Taiwan and the Indo-Pacific region," Tsai said.
Members of the committee demonstrated their attentiveness to developments on the international stage and challenges to democracies, she said, adding that the committee has "protected the national security of the US and its democratic allies."
Tsai also thanked the US Congress for its support in facilitating the signing of the first agreement under the US-Taiwan Initiative on 21st-Century Trade earlier this month, which "marked a new milestone in Taiwan-US trade and economic relations."
Taipei intends to accelerate its efforts with Washington to create a comprehensive solution to double taxation affecting Taiwanese and US businesspeople to promote economic exchanges between the two countries, she said.
The Presidential Office in a news release cited Rogers as saying that Taiwan and the US share a long and important friendship based on the common values of the rule of law, democracy, and the belief in a free and open Indo-Pacific region.
The bipartisan congressional delegation led by Rogers includes US representatives Adam Smith, Joe Courtney, John Garamendi, Jill Tokuda, David Rouzer, Gary Palmer, James Moylan and Corry Mills.
In other news, Nikki Haley, a former US ambassador to the UN and a Republican presidential hopeful, on Tuesday said that Washington and its allies should "give Taiwan everything it needs to defend itself," and make clear to Beijing that aggression would mean "a full-blown economic decoupling that would massively damage China."
Beijing is "an enemy" to the US and "the most dangerous opponent we have faced since World War II," Haley said in a speech at the American Enterprise Institute in Washington.
"The [Chinese] Communist Party's endgame is clear. China is preparing its people for war. [Chinese] President Xi [Jinping, 習近平] has openly said it," she said. "We should take him at his word and act accordingly."
The US must get Europe to recognize the threat China poses to its security and shake the bloc out of its slumber, Haley said.
Washington should deepen military cooperation with Japan, South Korea, Australia and other partners in the Indo-Pacific region, she said.


Source: Taipei Times - 2023/06/29