British Minister of State for Security Tom Tugendhat on Wednesday met with Minister of Digital Affairs Audrey Tang (唐鳳) to discuss mutual security interests, Reuters cited people with knowledge of the talks as saying.
The meeting broke with the UK's conventional foreign policy, the report said.
Britain has no formal diplomatic relations with Taiwan.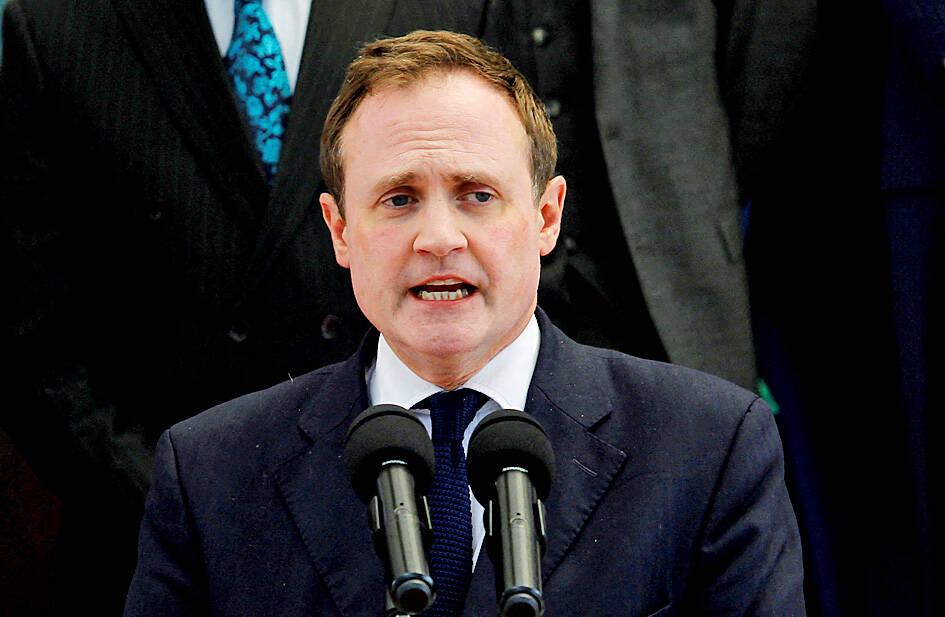 British Minister of State for Security Tom Tugendhat speaks at a news conference in Nairobi on May 10.
Photo: Reuters
Although junior British ministers hold talks with their Taiwanese counterparts, the convention was that senior British ministers do not meet with Taiwanese officials.
One source said that Tugendhat's meeting with Tang was about mutual security interests.
Tugendhat, who was sanctioned by China two years ago for speaking out about alleged human rights abuses in Xinjiang, is not a full Cabinet minister, but attends Cabinet meetings in his role as security minister, which puts him in charge of countering terrorism, domestic state threats and economic crime.
Luke de Pulford, executive director of the Inter-Parliamentary Alliance on China, a group made up of lawmakers from democratic countries concerned about Beijing's behavior, said that to his knowledge it was the first time a British minister who attends Cabinet had met with a Taiwanese minister.
"This is extremely welcome and sends the right message," De Pulford said. "The security minister should be congratulated for facing down pressure from other departments and setting a new precedent, which all ministers can now follow."
The sensitivity of the meeting was borne out by the reluctance of several serving officials and departments to talk to reporters about what was discussed.
A spokeswoman for the British Home Office said: "We do not routinely comment on private ministerial meetings."
Tang's office declined to comment.
In other developments, Minister of Foreign Affairs Joseph Wu (吳釗燮) on Friday met with members of the European Parliament in Brussels, including European Parliament Vice President Nicola Beer, as part of a previously announced European tour.
Prior to visiting Brussels, Wu, who arrived in Europe on Monday, made stops in Poland and the Czech Republic, international media reported.
The Ministry of Foreign Affairs did not provide a detailed itinerary for Wu's trip, divulging only that he planned to give a talk at a summit and meet with Ukrainian refugees in Prague.
Knowledge of Wu's Brussels visit became public after several members of the European parliament shared photographs on social media of themselves with the foreign minister.
Beer, who led the highest-level delegation from the European Parliament to Taiwan in July last year, welcomed Wu's visit to Brussels following their meeting with six other members of parliament.
"Taiwan is an important and reliable economic partner for the EU and a firm member of the democratic family," Beer wrote on Twitter, adding that they "agreed to further intensify political, economic and civil exchange and cooperation between the EU & Taiwan."
Member of the European Parliament Rasa Jukneviciene from Lithuania also said that Taiwan had been a vital part of the democratic world and that "defending its democracy is just as important as defending Ukraine's."
The European Commission has declined to say whether any EU officials were scheduled to meet with Wu.
Additional reporting by CNA


Source: Taipei Times - 2023/06/18