Taiwan can look to Ukraine and Israel to learn about deterrence, which is a better option than war, former US deputy national security adviser Matt Pottinger said during a meeting with President Tsai Ing-wen (蔡英文) yesterday.
Pottinger, chairman of the China Program at the Foundation for Defense of Democracies, is visiting Taiwan at the head of delegation of US and Israeli security experts who are also members of the foundation.
The group is scheduled to depart today.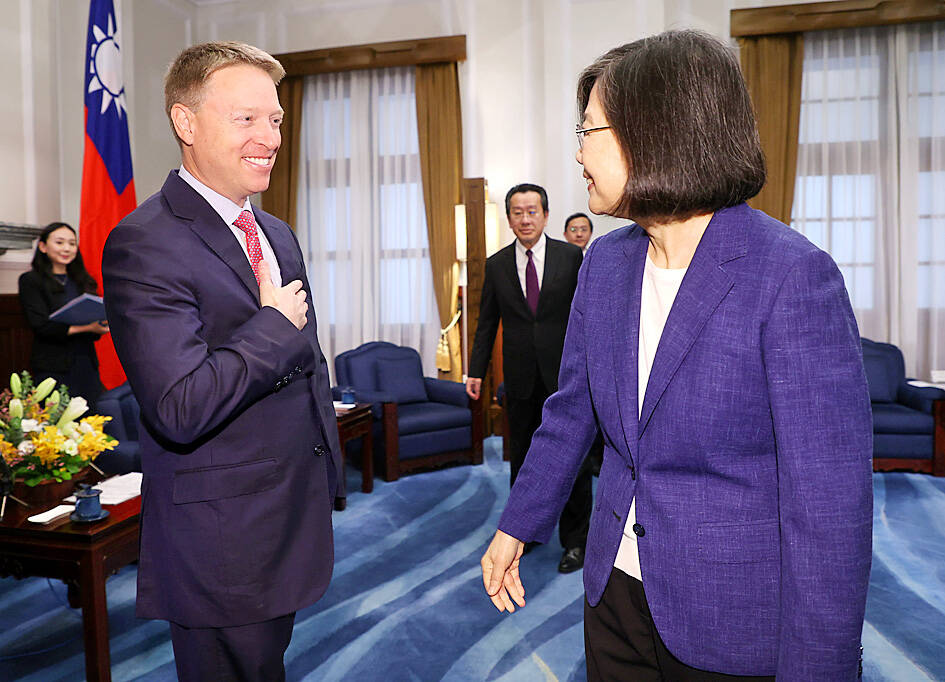 Former US deputy national security adviser Matt Pottinger, left, meets with President Tsai Ing-wen at the Presidential Office in Taipei yesterday.
Photo: CNA
Russia's invasion of Ukraine provided a vital insight to Taiwan: "Deterrence is far preferable to war," Pottinger said.
The formula of effective deterrence and safeguarding Taiwan's peace and prosperity is "capability times credibility," he said.
Capability includes asymmetrical and affordable munitions, realistic training and smart tactics, and a large number of small, mobile, dispersed, precision, lethal weapons, he said.
In addition to learning from the courage, confidence and the will to fight of Ukrainian soldiers and citizens, Taiwan can learn from Israel about demonstrating credibility during peacetime, Pottinger said.
Israel, with less than half of Taiwan's population and without its natural barriers, has won every battle and deterred invasion in the past 50 years, he said.
He praised Taipei's decision to restore one-year compulsory military service, calling it "a step toward building a culture, as well as an ecosystem, that will enhance deterrence, ensuring that Taiwan remains a guardian at the front line of free and democratic society."
The delegation believes that with the firm support of other democracies, Taiwan is "assembling the ingredients to safeguard its peace and security," Pottinger said.
Tsai thanked the foundation for repeatedly urging the international community to support Taiwan and thanked Pottinger for his continuous attention to cross-strait issues.
Peace and stability are keys to maintaining the international order, as authoritarian expansionism threatens democracy around the world, Tsai said.
Taiwan will continue to improve its self-defense capabilities, build a resilient democratic front with like-minded partners and secure global supply chains, she said.
For example, the Global Cooperation and Training Framework is an important platform for Taiwan to exchange opinions with democratic countries, while the US-Taiwan Initiative on 21st-Century Trade is a major achievement in trade between Taiwan and the US, she said.
In other news, US Senator Marco Rubio on Wednesday introduced a bill seeking to expedite arms sales to Taiwan and reinforce Washington's support of Taipei.
Rubio introduced the Taiwan Peace Through Strength Act to increase deterrence in the Taiwan Strait as Taiwan faces the increased threat of Chinese military attacks, his office said in a press release.
"Make no mistake: Deterring an invasion of Taiwan must be our top priority," Rubio said.
The proposal cames ahead of US Secretary of State Antony Blinken's scheduled visit to China on Sunday.
The bill seeks to require the US secretary of defense to conduct a classified annual review of US plans to defend Taiwan.
The review should assess Taiwan's current and near-term capabilities, and the force readiness, conflict contingency plans and risks of the US, the bill says.
It calls on the US secretaries of defense and state to prioritize and expedite the processing of requests from Taiwan in accordance with the Foreign Military Sales program.
The US' Taiwan Relations Act should be amended by replacing "arms of a defensive character" with "arms conducive to the deterrence of acts of aggression by the [Chinese] People's Liberation Army," it says.
The secretary of defense should establish a high-level military planning mechanism between the US and Taiwan to oversee joint exercises and coordinate international military education and training, the bill says.
The US should establish a "Taiwan Critical Munitions Acquisition Fund" of up to US$2 billion per year to ensure adequate stocks of critical munitions and finance the acquisition of such items, it says.
US representatives Jim Banks and Chris Pappas are to introduce companion legislation in the US House of Representatives, Rubio's office said.


Source: Taipei Times - 2023/06/16