Former China Production Party honorary chairperson Lu Yuexiang (盧月香) has reportedly accepted an official position in China and may be fined between NT$100,000 and NT$500,000 for contravening the Act Governing Relations Between the People of the Taiwan Area and the Mainland Area (臺灣地區與大陸地區人民關係條例).
Taiwanese are prohibited from holding any position or becoming members of any Chinese agencies, institutions or organizations that have political, military or administrative links to the Chinese government, Article 33 of the act says.
Lu, who is a native of China and holds Republic of China citizenship through marriage to a Taiwanese, is said to have taken up a position as a committee member of the Chinese People's Political Consultative Conference (CPPCC) of Fujian Province.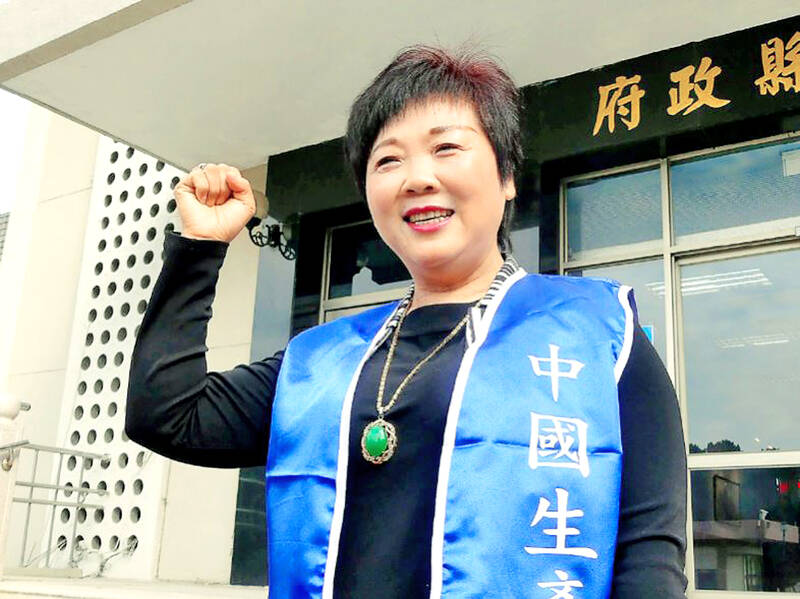 Former China Production Party honorary chairperson Lu Yuexiang is pictured in an undated photograph.
Photo: Taipei Times
The Mainland Affairs Council said that it would ask local authorities to investigate the case, while the Ministry of the Interior said that it was in the process of understanding the issue and would mete out appropriate punishment according to the law.
The council urged Taiwanese to abide by the act and other regulations when engaging in cross-strait exchanges.
Lu came to Taiwan in 1992 after marrying a Taiwanese and became an ROC citizen in 2001, an official said.
She founded the Chinese Production Party in Taiwan in 2010.
However, its establishment was revoked as she had not had a household registration in Taiwan for at least 10 years, the official said.
Her husband later founded the China Production Party and she was named the honorary chairperson, the official said.
Lu would not be the first to be fined by the Taiwanese government for assuming an official post in China.
The Ministry of the Interior in March 2019 fined Ling Yu-shih (凌友詩), an ROC citizen, NT$500,000 for accepting an official position in China.
The ministry said at the time that Ling accepted a seat at the CPPCC as a representative of the China-Taiwan Association, a private organization established to "serve as a bridge and link between the ruling [Chinese Communist] party and government, and Taiwanese compatriots."
Ling last month was quoted by Hong Kong's Sing Tao Daily as saying that she was fined again by the ministry this year for accepting a position as a representative in China's National People's Congress.
She said she has not paid the two fines and would not pay them as doing so would be tantamount "to recognizing the Taiwanese authority and admitting fault" for taking up official posts in China.


Source: Taipei Times - 2023/06/13