The Taiwan Statebuilding Party, alongside Kuma Academy chief executive officer Ho Cheng-hui (何澄輝) and international law expert Sung Cheng-en (宋承恩), yesterday urged the Legislative Yuan to begin reviewing a proposed foreign influence transparency law to prevent Chinese infiltration.
Taiwanese should not tolerate the legislature's indolence, party Chairman Wang Hsing-huan (王興煥) said.
The ruling and opposition parties are passive regarding efforts to mitigate the influence of Chinese "united front" rhetoric, said Wu Hsin-tai (吳欣岱), director of the Taiwan Statebuilding Party's Taipei chapter.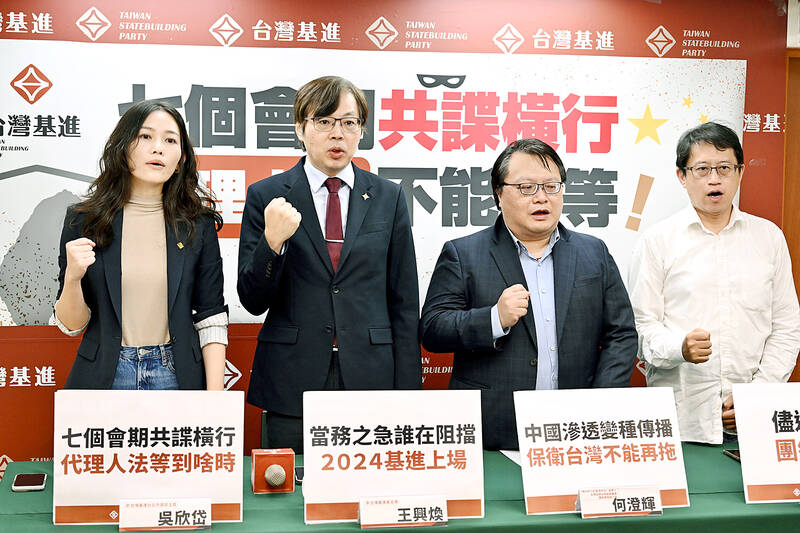 From left, Taiwan Statebuilding Party Taipei chapter director Wu Hsin-tai, party Chairman Wang Hsing-huan, Kuma Academy chief executive officer Ho Cheng-hui and international law expert Sung Cheng-en hold a news conference in Taipei yesterday.
Photo: George Tsorng, Taipei Times
Chinese infiltration must be funded, and the legal instrument to reveal such sources is still "frozen" in legislative processes, Wang said.
Wang accused Chinese Nationalist Party (KMT) and Taiwan People's Party legislators of blocking the act, adding that the Democratic Progressive Party, which has a legislative majority, is turning a blind eye because it has to rely on the support of Taiwanese businesspeople in China.
If Taiwan does not have defenses against infiltration, China would have virtually no opposition in "buying out" Taiwan, Wang said.
The US, Australia and the UK have regulations and laws that mandate the registration of foreign agents with their respective governments, while Canada is also mulling similar legislation, Wu said.
Taiwan is lagging in similar legislative efforts, and amendments to the Act Governing Relations Between the People of the Taiwan Area and the Mainland Area (臺灣地區與大陸地區人民關係條例), the Criminal Code, the National Security Act (國家安全法), the Classified National Security Information Protection Act (國家機密保護法) and the National Intelligence Services Act (國家情報工作法) have been insufficient, Wu said.
The average prison sentence for Chinese spies is 18 months, with most allowed to post bail or have their sentence delayed, Wu said, adding that such leniency encourages others to spy for China.
Ho said that establishing legislation to register foreign agents would be a warning system for democracies.
If one does not uphold the democratic system, it is difficult to safeguard even greater values, such as justice and fairness, Ho added.
Not Only Taiwan is subject to Chinese infiltration, Sung said, adding that the international community is jointly facing the issue of China using its influence and wealth to foment strife and discord in free and open societies.
The draft act only covers the essential facets, and Chinese infiltration and "united front" rhetoric are far more sophisticated, Sung said, adding that the draft is sufficient to cover many deficiencies in the national security act.
If passed, Sung said that the bill would not automatically consider all Taiwanese businesspeople agents of China, as they would only become suspects if they receive money and have a systematic way of reporting to Chinese agents.


Source: Taipei Times - 2023/06/03