A Keelung high school on Saturday night apologized for using a picture containing a Chinese flag on the cover of the senior yearbook, adding that it has recalled the books and pledged to provide students new ones before graduation on Thursday.
Of 309 Affiliated Keelung Maritime Senior High School of National Taiwan Ocean University graduates, 248 had purchased the yearbook.
Some students said that the printer committed an outrageous error in including the picture, while others said that nobody would notice such a small flag on the cover.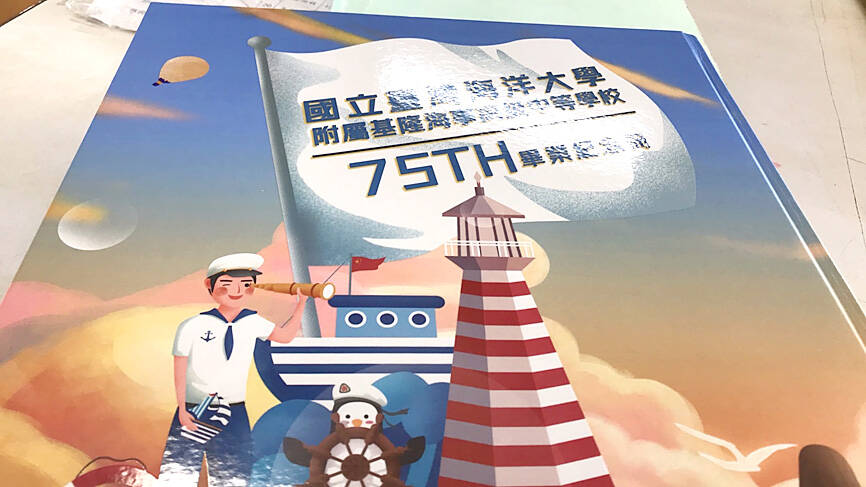 A Chinese flag is pictured on the cover of a senior yearbook for the Affiliated Keelung Maritime Senior High School of National Taiwan Ocean University yesterday.
Photo courtesy of a reader
Other students said that they cared more about the photographs of classmates and what was inside the yearbook than its cover.
School secretary Cheng Ying-hung (鄭穎鴻) said the cover was designed by a contracted printing company, which offered two to three drafts for the school to choose from.
Following a review by the school administration, students voted for the cover that best represented the school before it was approved for publishing.
The principal holds himself responsible for the incident, while a disciplinary committee would review the actions of personnel involved, Cheng said.
An internal audit would also address the printing error, and school representatives would set up standardized procedures for printing yearbooks, he said.
"We are deeply sorry for the trouble that the incident has caused our students, parents and society. We also thank people for their forgiveness and tolerance for such an error. We will use this incident as an example and make improvements," he said.
Keelung Mayor Hsieh Kuo-liang (謝國樑) yesterday said that the school administration should recall and apologize, and should not complicate the matter amid tense cross-strait relations.
Attorney Lin Fu-kuei (林富貴) yesterday said the printer might have committed defamation if it intentionally printed a Chinese flag to embarrass the school.
However, unless the printer says that it deliberately added the flag, it would be difficult to prove defamation, especially as the school reviewed the company's designs before they were published, Lin said.
The school would also likely be unable to win compensation for damages in a lawsuit, as the printer agreed to recall the yearbooks and print news one, he said.
Some legal experts said that even if the printer intentionally altered the cover, it would only represent a breach of contract and not constitute a crime.
Some people had proposed on the Public Policy Participation Network Platform that the government should prohibit the public display of the Chinese flag.
The Ministry of Justice at the time said that freedom of speech is an indispensable mechanism for maintaining the normal development of a democratic and pluralistic society.
"Any restriction by law should conform to the principle of proportionality. However, this proposal is not in line with the constitution's intention to protect people's freedom of speech," the ministry said.
Additional reporting by Wu Sheng-ru


Source: Taipei Times - 2023/05/29