The Ministry of Justice must propose a solution to a slew of bomb threats over the past week, which were an intentional act of harassment to sow discord in Taiwanese society, Democratic Progressive Party (DPP) Legislator Liu Chien-kuo (劉建國) said yesterday.
Fushan Botanical Garden in Yilan County earlier yesterday received an e-mail stating that six explosive devices had been set in the garden, prompting it to shut for two days while a thorough search was conducted, Liu said in comments during a review of an amendment at the Legislative Yuan in Taipei.
At noon yesterday, the Kaohsiung City Government received an e-mail demanding NT$10 million (US$325,034) or bombs would be detonated at Shoushan Zoo in Gushan District (鼓山) and the Dragon and Tiger Pagoda at Lotus Lake (蓮池潭) in Zuoying District (左營).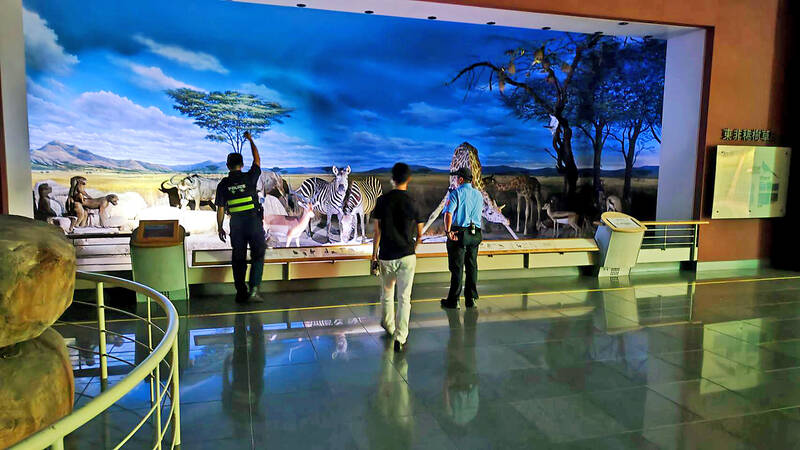 Police sweep the National Museum of Natural Science in Taichung on Wednesday after it received a bomb threat.
Photo courtesy of the National Museum of Natural Science
Police were dispatched to conduct searches at both sites, with about 750 people evacuated from the zoo, which remained closed for the rest of the day as a precaution.
Penghu Aquarium and Farglory Ocean Park in Hualien County received bomb threats on Wednesday, while National Taiwan Library, Taroko National Park Headquarters, Yangmingshan National Park, National Tsing Hua University, the National Palace Museum and transportation companies, including the Taiwan Railways Administration (TRA), Taiwan Taoyuan International Airport and the Airport MRT received threats via e-mail earlier in the week.
The Keelung branch of Taiwan Bank reported a bomb threat on Wednesday, Keelung Mayor Hsieh Kuo-liang (謝國樑) told reporters at a separate venue.
Kaohsiung police said that they had traced the IP address of the e-mail to the US, but it was likely the sender was using a VPN to conceal their identity and location.
Zhang Haichuan (張海川), a former student at Providence Univeristy, might be behind the slew of bomb threats targeting tourist hotspots in Taiwan, police said.
Zhang studied in Taiwan from 2016 to 2021 before returning to China during the COVID-19 pandemic.
He issued similar threats targeting the Presidential Office Building, the TRA, Taiwan High Speed Rail Corp and others in September 2021, and is wanted by the Taichung District Prosecutors' Office for allegedly issuing more than 150 bomb threats.
Zhang's acts are harassing Taiwan and intentionally creating discord in society, Liu said, adding that there might be many other suspects who have not yet been identified.
The government should draw up contingency measures in case such harassment is conducted on a larger scale by organizations or states, he said.
What are Taiwan's options if Beijing were to refuse to cooperate and instead encourage such behavior through inaction, he asked.
Deputy Minister of Justice Chen Ming-tang (陳明堂) said the ministry was investigating the bomb threats, adding that it would try all channels to persuade its Chinese peers to observe the Cross-Strait Joint Crime-Fighting and Judicial Mutual Assistance Agreement (海峽兩岸共同打擊犯罪及司法互助協議).
The Mainland Affairs Council said it had sent China a request regarding Zhang under the agreement, but had yet to receive a response.
The Taiwan High Prosecutors' Office said it is planning to convene a cross-agency meeting next week to decide on a standardized response to the threats.
Additional reporting by Lu Hsien-hsiu and Chen Wen-chan


Source: Taipei Times - 2023/05/19