The Taiwan United Nations Alliance yesterday said it would promote Taiwan's visibility and publicize the nation's contributions to global health on the sidelines of the World Health Assembly (WHA), which is to convene in Geneva, Switzerland, on Friday.
Members of the alliance's Here I Stand Project, which comprises young Taiwanese dedicated to speaking up for Taiwan at international events, as well as a number of doctors, are to depart for Geneva on Thursday, the alliance told a news conference in Taipei.
They are to join the delegation led by Minister of Health and Welfare Hsueh Jui-yuan (薛瑞元) to Geneva, even though Taiwan has not been invited to participate in the WHA, the decisionmaking body of the WHO, for a sixth straight year.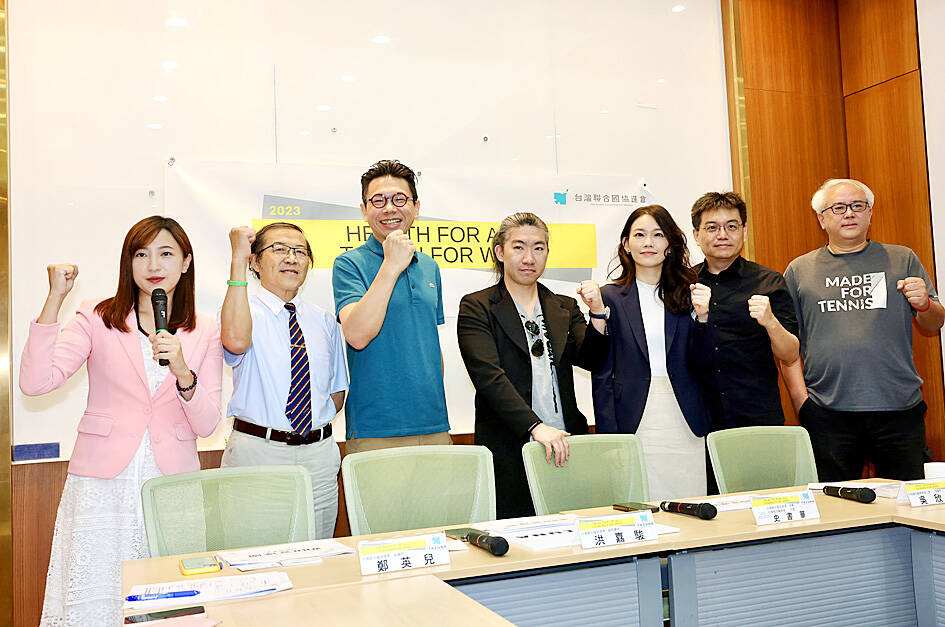 From left, Democratic Progressive Party New Taipei City Councilor Evalyn Chen, Taiwan United Nations Alliance (TAIUNA) members Cheng Ying-er, Hung Chia-chun and Shih Shu-hua, Taiwan Statebuilding Party Taipei chapter convener Wu Hsin-tai, TAIUNA WHO mission head Chou Te-wang and producer Issac Wang attend a news conference in Taipei yesterday.
Photo: CNA
Project members would hold a "Taiwan creative exhibition" to introduce Taiwan to the world, as well as attend a party held by the Overseas Community Affairs Council and official forums, association executive director and leader of the mission Chou Te-wang (周德望) said.
Former Academia Sinica president Wong Chi-huey (翁啟惠) is to give a speech at the forum, titled "From SARS to COVID-19." Premier Chen Chien-jen (陳建仁) is to participate in the forum virtually.
A Polish online influencer known as Stan is to report on the mission's activities at the event.
Taiwan needs to explain its medical prowess and the contributions it made to other countries during the COVID-19 pandemic, because its international space has been continuously suppressed, dentist and mission member Shih Shu-hua (史書華) said.
"The WHA needs Taiwan's viewpoint," as the nation can offer more transparent health information than China, Taiwan Statebuilding Party Taipei chapter convener and physician Wu Hsin-tai (吳欣岱) said.
The mission is to carry banners signed by doctors from the Taiwan Medical Association, as well as participating doctors and experts from other countries, to show support for Taiwan, she said.
The association designed a new logo and visual corporate identity to mark its 20th anniversary this year.
The design drew inspiration from a dove of peace and a puzzle, sending the message that "Taiwan is the missing piece of the puzzle" in global health and beyond, association vice president Hung Chia-chun (洪嘉駿) said.
The EU yesterday expressed its support for Taiwan's participation, with EU Foreign Affairs and Security Policy spokesperson Nabila Massrali saying that Taiwan's capabilities in medicine and the energy it puts into world health would bring added value to the WHO's efforts toward health for all.
In other news, the Ministry of Foreign Affairs yesterday welcomed a delegation of Swedish lawmakers who, during last month's Parliamentary Assembly of the Council of Europe (PACE), voiced their support for Taiwan's participation in the WHA.
The delegation comprises Swedish lawmakers Markus Wiechel, Sara Gille, Nima Gholam Ali Pour and Rasmus Giertz, who arrived in Taiwan on Sunday for a six-day visit, the ministry said.
Wiechel, who is the vice president of PACE, authored a declaration during the council's spring session to "call on the member states of the Council of Europe to work to restore Taiwan's observer status [at the WHA] as early as possible."
The document, which garnered 22 signatures, praised Taiwan as "an advanced, engaged, highly capable and responsible member of the global health community," and called the loss of Taiwan's contribution in the field "regrettable."
Taiwan's relationship with Sweden has become closer in recent years, the ministry said, adding that a delegation of Swedish lawmaker and members of the European Parliament in April last year visited Taiwan, despite China's opposition.
Swedish Prime Minister Ulf Kristersson expressed concern over China's military threat to Taiwan in his first address to the Swedish parliament in October last year, it added.
Taiwan will continue to work with Sweden and other like-minded countries to enhance democratic resilience, defend a free and democratic way of life and strive for mutual prosperity, it said.
Additional reporting by CNA


Source: Taipei Times - 2023/05/16