The administration of US President Joe Biden is preparing a US$500 million weapons package for Taiwan, using a fast-track authority that it has relied on to speed arms to Ukraine, people familiar with the matter said.
Plans for the package involve sending stockpiles of US weapons or support equipment to Taiwan under what is known as a Presidential Drawdown Authority, the people said on the condition of anonymity.
The equipment in the package was not immediately known.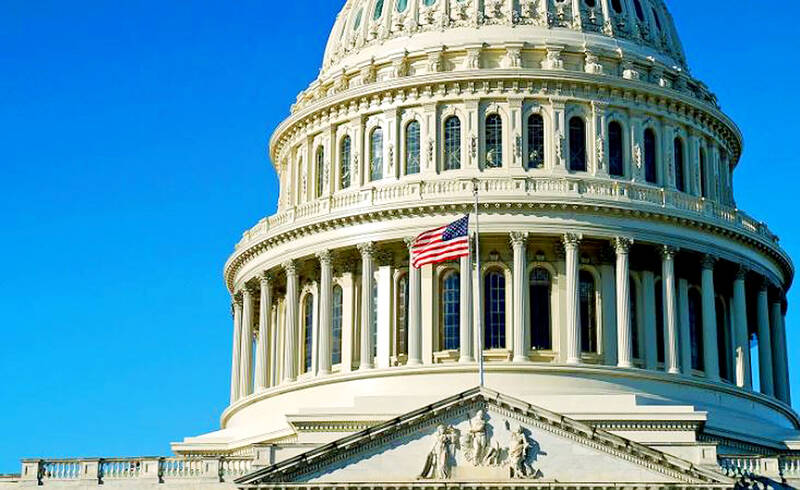 The US Capitol dome in Washington is pictured on Dec. 17, 2020.
Photo: Reuters
Using a drawdown enables the US to sidestep the often lengthy process of contracting and producing weapons, which has resulted in what lawmakers say is a US$19 billion backlog in armaments that have been approved but not yet delivered to Taiwan. It has not been used before to send weapons to Taiwan.
The US Congress authorized Biden to use as much as US$1 billion in US inventory for Taiwan in the National Defense Authorization Act, and lawmakers have criticized the administration for being slow to use that authority.
Congress did not appropriate funds to replace the equipment, so the Pentagon would have to seek that money later.
Pentagon spokesman Lieutenant Colonel Martin Meiners said that the Presidential Drawdown Authority was authorized last year "to deliver vital security assistance in support of Taiwan's self-defense."
The administration's approach remains "consistent with longstanding US policy as outlined in the Taiwan Relations Act," Meiners said.
The Biden administration and its allies have grown increasingly concerned about the pace of China's military modernization, and some have warned that Chinese leadership wants its armed forces to be capable of invading Taiwan by 2027.
However, US Secretary of Defense Lloyd Austin and US Director of National Intelligence Avril Haines have said they do not foresee an imminent effort by China to seize Taiwan by force.
"My team is working diligently to make sure that we have the right capabilities in that particular drawdown," Austin said in March in testimony to the Senate Armed Services Committee, adding that "we'll need the appropriations as well" to replace that equipment.
American Enterprise Institute nonresident fellow Eric Sayers said the money is "a good start, but I expect the Congress will push for the administration to use the full US$1 billion they authorized."
"This should be viewed as a good first step to use these new authorities to begin to expeditiously address shortfalls in cross-strait deterrence," Sayers added.
In Taipei, the Ministry of National Defense yesterday said it is always happy to receive assistance from partner countries.
Premier Chen Chien-jen (陳建仁) said that Taiwan's ability to fend off an attack is essential to preventing one in the first place, and that defense capabilities must be bolstered.
Institute of National Defense and Security Research fellow Su Tzu-yun (蘇紫雲) said the US$500 million could purchase 3,000 FGM-148 Javelin missiles, 6,000 FIM-92 Stinger missiles, 500 Harpoon missiles or 120 PAC-3 missiles.
This would swiftly shore up Taiwan's defense capabilities, he said.
Retired air force general Chang Yan-ting (張延廷) said the funds would probably be spent on uncrewed aerial vehicles, attendant equipment, or Stinger and Javelin missiles that comply with asymmetric warfare doctrine.
China last month staged war games around Taiwan after President Tsai Ing-wen (蔡英文) met US House of Representatives Speaker Kevin McCarthy in Los Angeles.
Taiwan has since last year criticized delays to US weapon deliveries, such as Stinger anti-aircraft missiles, as manufacturers turned their supplies to the war in Ukraine.
The issue has concerned some US lawmakers.
Additional reporting by Tsai Yun-jung, CNA and Reuters


Source: Taipei Times - 2023/05/07