Former president Ma Ying-jeou (馬英九) yesterday departed for a 12-day trip to China as scheduled, despite calls for him to cancel the trip after Honduras severed diplomatic ties with Taiwan as an apparent result of China's dollar diplomacy.
"This is my first trip to China. I was 37 when I began handling cross-strait affairs in the government. Now I am 73 and have waited 36 years for the visit. It is indeed a bit too long, but I am glad I can go," Ma of the Chinese Nationalist Party (KMT) told reporters at Taiwan Taoyuan International Airport.
"Aside from paying respects to my ancestors, I am taking a group of university students from Taiwan to have exchanges with Chinese university students, which I hope would help ease tensions across the Taiwan Strait and bring peace," he said.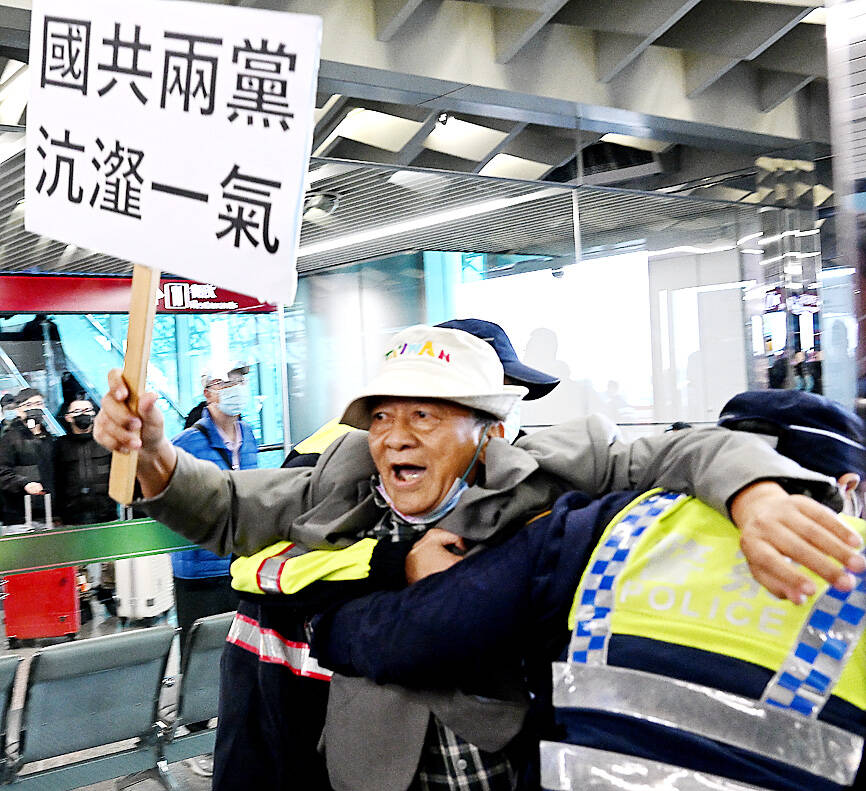 A man is held back by police during a protest at Taiwan Taoyuan International Airport yesterday against former president Ma Ying-jeou's visit to China.
Photo: Hu Shun-hsiang, Taipei Times
Ma's office last week said that the former president began planning the trip before the Lunar New Year holiday, but it has been perceived by some as a politically calculated move as President Tsai Ing-wen (蔡英文) is scheduled to depart for a 10-day trip tomorrow to visit two allies in Central America — Belize and Guatemala — via a stop in the US.
Taiwan Republic Office director Chilly Chen (陳峻涵) led a protest against Ma and his delegation at the airport yesterday, as they accused the former president of kowtowing to Beijing and selling out Taiwan.
"Right now many countries are supporting Taiwan and promoting more collaboration, but we see Ma and KMT members choose to stand with Beijing, and boost their links to the evil regimes of China and Russia," Chen said. "Their action misleads the international community about a perceived close association with China."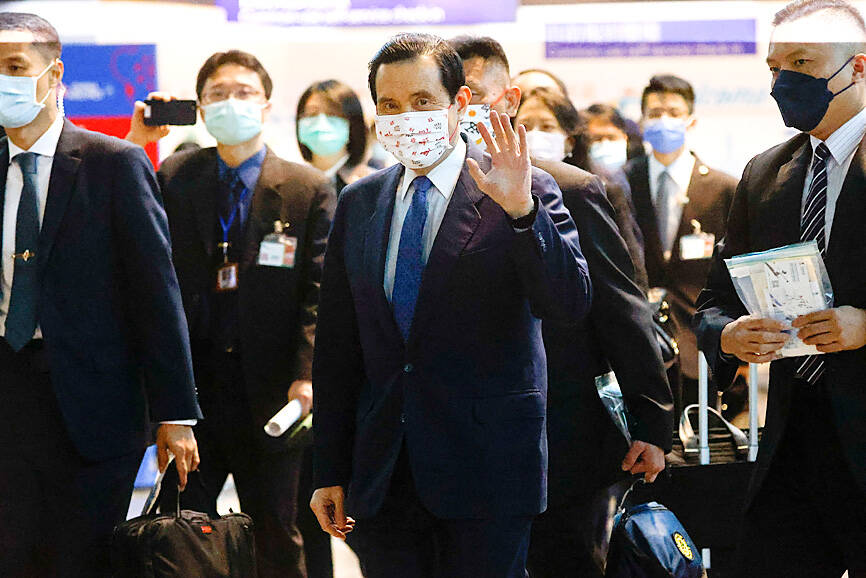 Former president Ma Ying-jeou waves to reporters at Taiwan Taoyuan International Airport before departing on a visit to China yesterday.
Photo: Ann Wang, Reuters
Democratic Progressive Party spokesman Chang Chih-hao (張志豪) last week said that Ma's visit might send the wrong signal to the international community regarding China's "aggressive, expansionist" behavior toward Taiwan.
Chang said that Ma's trip would fall flat with the public, who would not accept seeing a former president "reduced to serving as a pawn in the Chinese Communist Party's unification efforts."
New Power Party (NPP) Legislator Chiu Hsien-chih (邱顯智) yesterday said that everyone would agree that the trip is a politically charged move, and that Ma should know this better than anyone.
"Ma was a Harvard University student when the US ended official ties with Taiwan in 1979. He said that he cried and protested after watching former US president Jimmy Carter make the announcement on TV, as he was uncertain what would happen to Taiwanese students studying in the US at the time," Chiu said. "Forty-four years later, Ma did not shed any tears when Honduras severed ties with Taiwan because of China's dollar diplomacy. Instead, he is going to China for his own political interest and to dance to Beijing's tune."
As the first former Taiwanese president to set foot in China, Ma should explain whether his office contacted Beijing after obtaining information about Tsai's trip to Central America, or whether China obtained the information first and was trying to find a "partner" in Taiwan to execute its calculated move, Chiu said.
Additional reporting by Jason Pan


Source: Taipei Times - 2023/03/28