Former US national security adviser John Bolton on Friday reiterated a call for US naval visits to the Port of Kaohsiung, as he affirmed the Pentagon's reported plan to send more troops to Taiwan.
The Wall Street Journal on Thursday reported that the US is increasing its small contingent of soldiers in Taiwan to train local forces.
The US military presence in Taiwan would grow from 100 to 200 troops, up from about 30 a year earlier, it said.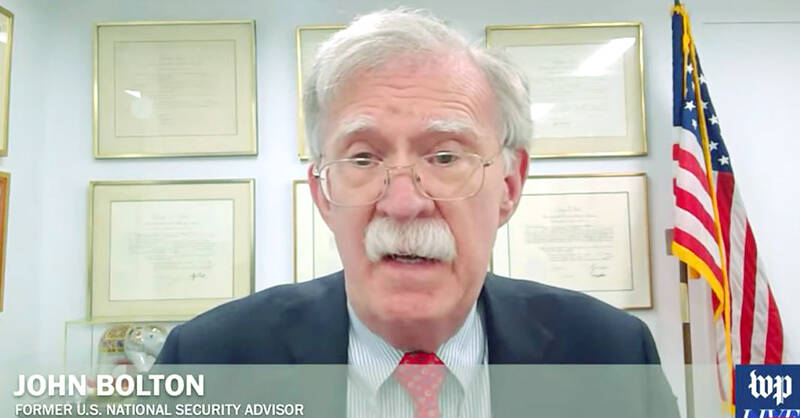 Former US national security adviser John Bolton speaks to journalist Michael Duffy in a Washington Post Live interview on Friday.
Photo: screen grab from Washington Post Live livestream
In response, a Pentagon spokesman said that "we don't have a comment on specific operations, engagements or training, but I would highlight that our support for, and defense relationship with, Taiwan remains aligned against the current threat posed by the People's Republic of China."
In a conversation with Washington Post journalist Michael Duffy on the newspaper's Washington Post Live platform posted on Friday, Bolton said the Pentagon was making the right move by increasing the US' troop presence in Taiwan.
"I think that deployment was a correct decision, but I think there's a lot more to do," he said.
"I think there has to be a lot more not simply in increasing Taiwan's military capabilities, but also showing increased American support. I think the time for strategic ambiguity over Taiwan has gone. I would suggest home porting American naval vessels in Kaohsiung harbor in southern Taiwan, putting more Americans in to train and assist Taiwanese forces," he said.
"And over the long term, which isn't all that long, but over the next several years, recognizing that Taiwan is an independent country," he added.
"I think we should begin to integrate Taiwan into more elaborate collective defense organizations in East and South Asia, with Japan, South Korea, Australia and others, because the more Taiwan is linked in with others who worry about China's belligerence, the greater the chance that we can deter any Chinese menace toward Taiwan," he said.
Separately, former US secretary of state Mike Pompeo also responded positively to the Wall Street Journal report.
"Sending more troops to Taiwan is a start," he wrote on Twitter yesterday. "Now, we should do the right thing and recognize Taiwan as a free and sovereign nation."


Source: Taipei Times - 2023/02/26