US President Joe Biden yesterday made an unannounced visit to Kyiv to meet with Ukrainian President Volodymyr Zelenskiy, a gesture of solidarity that comes days before the one-year anniversary of Russia's invasion of the country.
Speaking alongside Zelenskiy at Mariinsky Palace, Biden recalled the fears nearly a year ago that Russia's forces might quickly take the Ukrainian capital.
"One year later, Kyiv stands," Biden said, jamming his finger for emphasis on a podium decorated with US and Ukrainian flags. "Ukraine stands. Democracy stands. The Americans stand with you, and the world stands with you."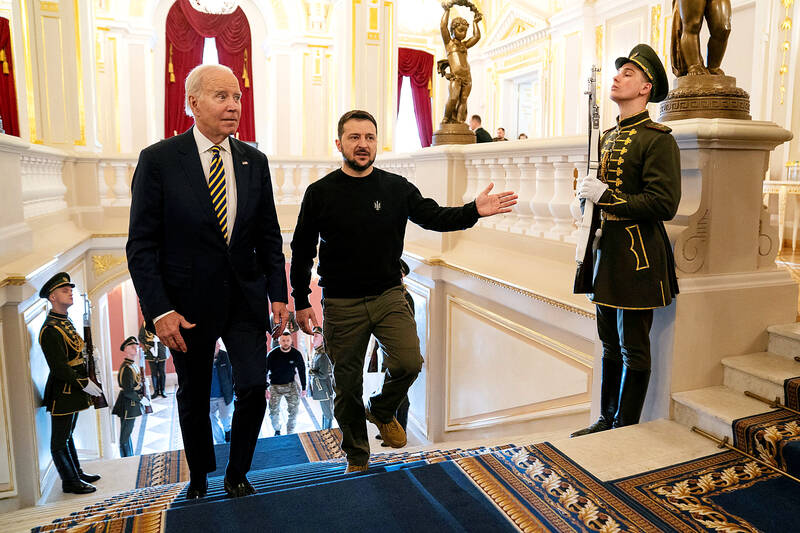 US President Joe Biden, left, enters Mariinsky Palace with Ukrainian President Volodymyr Zelenskiy in Kyiv yesterday.
Photo: Reuters
The Ukraine visit comes at a crucial moment in the war as Biden looks to keep allies unified in their support for the country, as the war is expected to intensify with both sides preparing for spring offensives.
Zelenskiy is pressing allies to speed up delivery of pledged weapons systems and is calling on the West to deliver F-16 jets to Ukraine — something that Biden has so far declined to do.
In Kyiv, Biden announced an additional US$500 million dollars in US assistance — on top of the more than US$50 billion already provided — including shells for howitzers, anti-tank missiles, air surveillance radars and other aid, but no new advanced weaponry.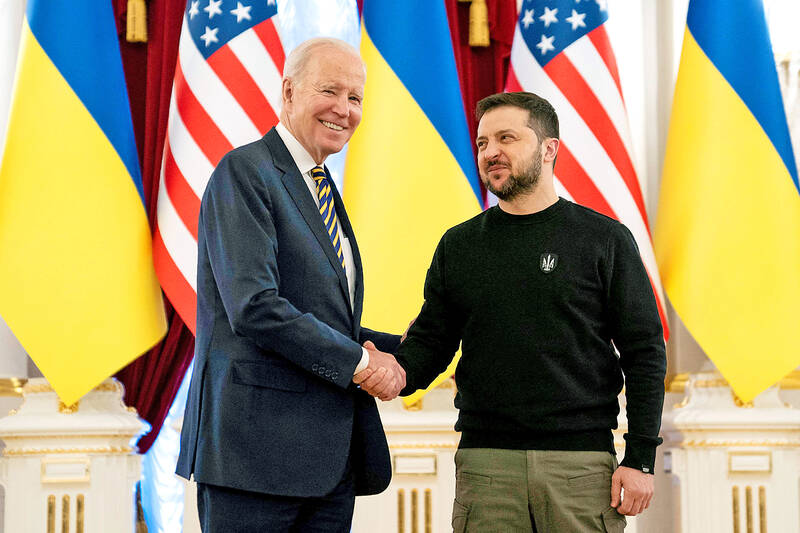 US President Joe Biden, left, shakes hands with Ukrainian President Volodymyr Zelenskiy at Mariinsky Palace in Kyiv yesterday.
Photo: AFP
Zelenskiy said he and Biden spoke about "long-range weapons and the weapons that may still be supplied to Ukraine."
Biden also got a short firsthand taste of the terror that Ukrainians have lived with for close to a year, as air raid sirens howled over the capital just as he and Zelenskiy were exiting the gold-domed St Michael's Cathedral, which they visited together.
Looking solemn, they continued unperturbed as they laid a wreath and held a moment of silence at the Wall of Remembrance honoring Ukrainian soldiers killed since 2014.
Biden's mission with his visit to Kyiv, which comes ahead of a scheduled trip to Poland, is to underscore that the US is prepared to stick with Ukraine "as long as it takes" to repel Russian forces even as public opinion polling suggests that US and allied support for providing weaponry and direct economic assistance has begun to soften.
For Zelenskiy, the symbolism of having the US president stand with him on Ukrainian land as the anniversary nears is no small matter, as he prods the US and European allies to provide more advanced weaponry.
"I thought it was critical that there not be any doubt, none whatsoever, about US support for Ukraine in the war," Biden said.
The trip gave Biden an opportunity to see firsthand the devastation the invasion has caused.
Zelenskiy said through an interpreter that he hopes their meeting "brings us closer to the victory" — hopefully this year, he added.
The White House said that "basic communication with the Russians occurred to ensure deconfliction" shortly before Biden's visit in an effort to avoid any miscalculation that could bring the two nuclear-armed nations into direct conflict.
While Biden was in Ukraine, US surveillance planes, including E-3 Sentry airborne radar and an electronic RC-135W Rivet Joint aircraft, were keeping watch over Kyiv from Polish airspace.
Since early yesterday morning, many main streets and central blocks in Kyiv were cordoned without any official explanation. People started sharing videos of long motorcades driving along streets where access was restricted.
White House planning for Biden's visit to Kyiv was tightly controlled — with a small group of aides briefed on the plans — because of security concerns. The president traveled with just a few senior aides and two journalists to maintain secrecy.
Biden quietly departed Washington at 4:15am on Sunday, making a stop at Ramstein Air Base in Germany before making his way to Ukraine. He arrived in Kyiv at 8am yesterday.
Meanwhile, Polish Prime Minister Mateusz Morawiecki on Sunday said that he and Biden plan to discuss increasing the US troop presence in Poland and making it permanent.
Biden in June last year said the US would establish a new permanent army headquarters in Poland in response to Russian threats.


Source: Taipei Times - 2023/02/21