As the death and injury toll in earthquake-struck Turkey rises, cash donations have flowed from across Taiwan, with more than NT$271.77 million (US$9.02 million) received as of Friday, the Ministry of Health and Welfare said in a statement yesterday.
More than 43,000 donations had been made through a dedicated account as of 5pm, the ministry said.
With NT$83.53 million in the account the previous day, Friday's total represented a NT$188.24 million one-day jump in donations.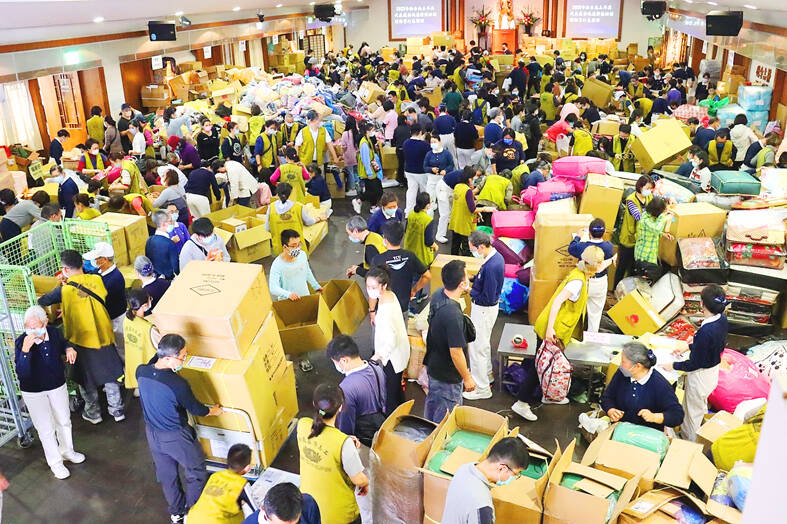 Volunteers organize donations for Turkish earthquake victims at a Buddhist Compassion Relief Tzu Chi Foundation centre in Taipei's Neihu District yesterday.
Photo courtesy of the Buddhist Compassion Relief Tzu Chi Foundation
More than 20,600 people were killed in Turkey and 3,500 in Syria, according to officials in the region, after a magnitude 7.8 earthquake struck on Monday.
Many Taiwanese companies and other organizations pledged donations, including IC packaging and testing services provider ASE Technology Holding Co (日月光投控), which on Friday said it would donate NT$10 million.
Asustek Computer Inc (華碩), which has about 100 employees at a branch in Turkey, is encouraging its employees in Taiwan to contribute, and had raised more than NT$5 million as of Friday, a person at the company said.
Elevator and escalator manufacturer Golden Friends Corp (GFC, 崇友實業) and the GFC Foundation (崇友文教基金會) said they had jointly donated NT$8 million through the ministry's dedicated account.
The Taiwan Stock Exchange, Taiwan Futures Exchange, Taiwan Depository and Clearing Corp (台灣集中保管結算所) and the Taipei Exchange together donated NT$4 million.
The Rong San Lin Foundation of Culture and Social Welfare (林榮三文化公益基金會) on Thursday pledged NT$10 million. Mr Rong San Lin (林榮三) founded the Taipei Times and its sister paper, the Liberty Times.
China Medical University Hospital has pledged NT$5 million.
President Chain Store Corp (統一超商), which operates 7-Eleven convenience store franchises in Taiwan, has teamed up with Taiwan World Vision to allow cash donations at kiosks at any 7-Eleven branch, or by using the Open Point app.
Meanwhile, the Turkish Trade Office in Taipei yesterday said that it must stop accepting relief supplies at its office, as it has received more than it can handle.
The office said in a statement that it is grateful for the generosity and kindness of Taiwanese who have donated money and goods to assist earthquake victims, with the quantity being more than expected.
The Buddhist Compassion Relief Tzu Chi Foundation in particular has helped collect winter clothing and other cold-weather necessities for displaced earthquake survivors facing freezing weather conditions.
Taiwan has also sent two search-and-rescue teams totaling 130 members and five search dogs to help find survivors.


Source: Taipei Times - 2023/02/12