A prototype of Taiwan's first locally built submarine is set to begin testing in September, marking a milestone in the nation's Indigenous Defense Submarine program, CSBC Corp, Taiwan (台船) chairman Cheng Wen-lon (鄭文隆) said yesterday.
The construction of the prototype has continued around the clock after overcoming a series of difficulties thanks to the cooperation of the Naval Shipbuilding Development Center, the navy's 256th Submarine Squadron and a CSBC task force, Cheng said.
The government has allocated a NT$49.36 billion (US$1.61 billion) budget over seven years (2019 to 2025) to build a prototype, hoping to launch an indigenous submarine building program that would make Taiwan less dependent on other nations to procure the vessels.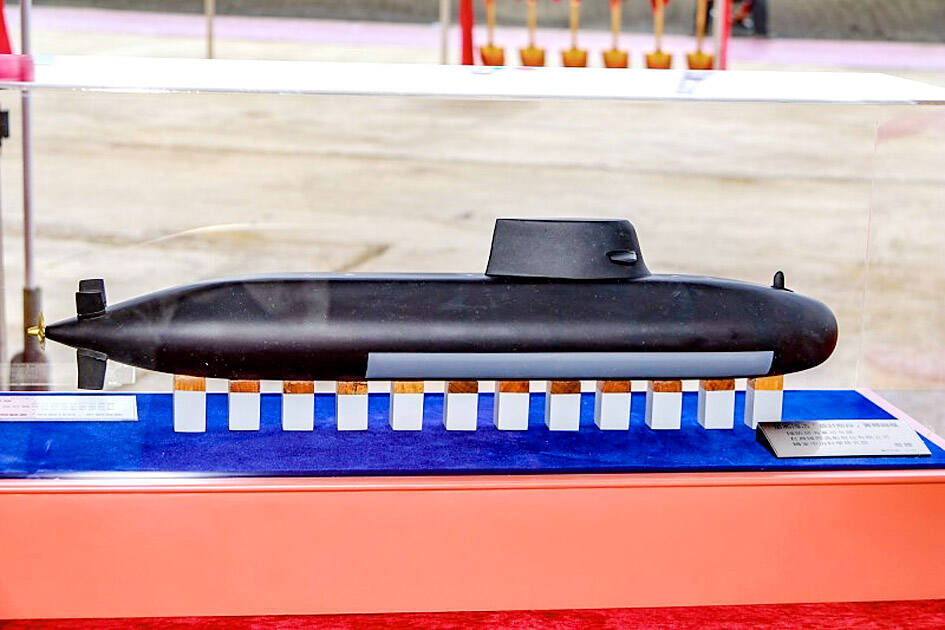 A model of a submarine being built through the Indigenous Defense Submarine program is pictured in an undated photograph.
Photo courtesy of the Ministry of National Defense
More than 40 percent of the submarine, including its airtight doors, water conversion system, hydraulic system and silent air-conditioning system, is being manufactured locally, a source familiar with the program said.
Currently, six hull sections have been completed, with only the sail cover section left to be completed, the source said, adding that the ultimate goal is for a submarine cluster to take root in Taiwan so more submarines can be built.
Some "red zone" technologies beyond Taiwan's submarine design and building capability, such as its diesel engine, torpedo tubes and other combat equipment, have been procured from overseas, the source said.
The Ministry of National Defense has divided the hardware and technologies Taiwan needs for its submarines into red, yellow and green categories, with "red" parts needing to be imported, "yellow" parts that might possibly be made locally and "green" parts that can easily be made in Taiwan.


Source: Taipei Times - 2023/01/04