President Tsai Ing-wen (蔡英文) is expected to call a high-level national security meeting on Tuesday during which she would order the expansion of conscription from four months to one year, a source familiar with the matter said.
On Dec. 7, Minister of National Defense Chiu Kuo-cheng (邱國正) told lawmakers that a decision on the length of military service would be announced before the end of the year.
With one week left before New Year's Eve, the only option remaining for the Tsai administration to prolong conscription is through an executive order — an avenue that the government is willing to take, the source said, speaking on condition of anonymity.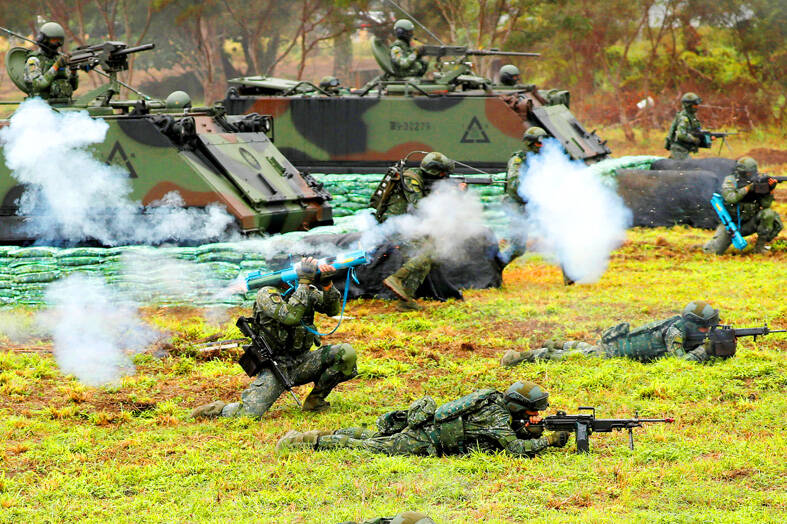 Soldiers take part in a military drill in Hualien County on Jan. 30, 2018.
Photo: Tyrone Siu, REUTERS
Assuming the order is promulgated on Saturday, the implementation of the policy would begin no earlier than Jan. 1 and affect conscripts born in 2006, they said.
Military-aged men performing alternative civil service would also have their service terms extended to a year, up from six months, the source said.
The salary for military conscripts is to be increased to NT$15,000 per month, they added.
Leading Democratic Progressive Party lawmakers in the party's caucus and the legislature's Foreign Affairs and National Defense Committee have been briefed on these developments by the Presidential Office and the Ministry of National Defense, the source said.
Tsai is expected to personally announce the change and leave it to the Executive Yuan to finalize the policies, while the Legislative Yuan would receive a notification as soon as Friday, they said.
As the legislature is extending its current session to Jan. 13, there should be enough time for lawmakers to take receipt of the executive order, the source said.
A decline in population and the rising threat posed by China means Taiwan must fall back on conscription to have the necessary number of troops to defend itself, the Central News Agency cited an internal report by the ministry as saying.
Although a professional military comprised of five-year volunteers would be the most efficient force, such goals could be unobtainable due to the nation's changing demographics and China's increasingly formidable amphibious capabilities, the report said.
The military recruited 70,495 volunteers from 2016 to last year, which was equivalent to enlisting 0.3 percent of the population each year, matching the enlistment rates in other democracies, it said.
While Taiwan could before 2016 draw volunteers from a pool of about 110,000 military-aged males per year, the number of men available to the military has declined every year since 2019, it said.
By 2025, the military would not be able to recruit more than 9,305 new volunteers, a decrease of 4,709 compared with the current levels and insufficient for meeting national defense needs, it said.


Source: Taipei Times - 2022/12/25