The military is to station mobile missile defense systems along Taiwan's east coast after Chinese military vessels were spotted in the area, a source said yesterday.
On Friday, six Chinese warships, including the aircraft carrier Liaoning, entered the Pacific Ocean via the Miyako Strait, posing a threat to Taiwan's east coast.
The Japanese Ministry of Defense on Friday confirmed the passage of the ships, saying that its Maritime Self-Defense Force monitored the vessels, adding that they did not enter Japan's territorial waters.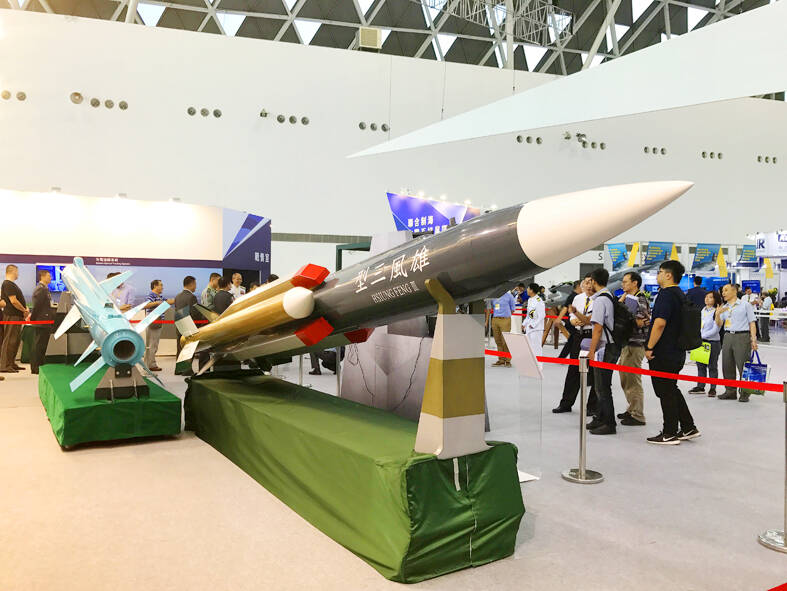 Visitors look at the model of a Hsiung Feng III anti-ship missile displayed at the Kaohsiung Exhibition Center on Sept. 27, 2018.
Photo: Hung Chen-hung, Taipei Times
The source said the vessels were likely headed to the Pacific Ocean for training exercises.
The vessels were identified as the Liaoning with hull number 16, Type 054A guided-missile frigate Zaozhuang with hull number 542, Type 052D guided-missile destroyer Chengdu with hull number 120, Type 055 guided-missile destroyer Anshan with hull number 103, Type 055 guided-missile destroyer Wuxi with hull number 104 and Type 901 supply ship Hulunhu with hull number 901.
The scale and formation of the battle group was rare, the source said, adding that it was likely preparing for aircraft takeoff and landing exercises, and related combat training.
Following the passage, the Ministry of National Defense in Taipei ordered the navy and air force to improve readiness measures on Taiwan's east coast.
The ministry said that while this was not the first passage by Chinese naval vessels through the Miyako Strait — and although it always monitors such passages and is ready to respond — it was enhancing missile defenses on the east coast as an improved readiness measure.
The military has deployed mobile missile launchers for Hsiung Feng II and Hsiung Feng III anti-ship missiles to eastern Taiwan, the source said, adding that it would also deploy shore-mounted Harpoon missiles procured from the US.
The deployments would be funded by a special budget, and members of the marine corps would take charge of the missile systems, the source said.
Missile systems would be upgraded nationwide, but priority has been given to the east coast, due to a greater risk there, they added.
The Chungshan Institute of Science and Technology would design and supervise missile-system installations, but the exact locations of deployment would not be made public due to security reasons, the source said.
The two Hsiung Feng systems would each have a range of 150km and would later be complemented with Harpoon deployments, which have a range of 250km, the source said.
Fixed military facilities, like those on Hualien County's Hetianshan (賀田山), would be targets in wartime, which is why it is deploying mobile systems, they added.
The missile upgrade program is expected to be completed in 2026, and training would be conducted on the east coast, where missile-storage and living facilities, as well as a control room, are already in place, they said.


Source: Taipei Times - 2022/12/19