Legislative by-election candidate Enoch Wu (吳怡農) yesterday rebutted accusation leveled against him by his competitor of the Chinese Nationalist Party (KMT), saying that Taipei City Councilor Wang Hung-wei (王鴻薇) is "only talking negatively" about him, but does not have any policy proposals.
Wu, the Democratic Progressive Party (DPP) candidate in a by-election in Taipei to fill the legislative seat vacated by KMT Taipei mayor-elect Chiang Wan-an (蔣萬安), during the day held several campaign events and at night canvassed at Liaoning Street Night Market in the city's Zhongshan District (中山).
"We only hear Wang talking negatively these days," he told reporters. "She does not respect the electorate; she has not presented any concrete plans."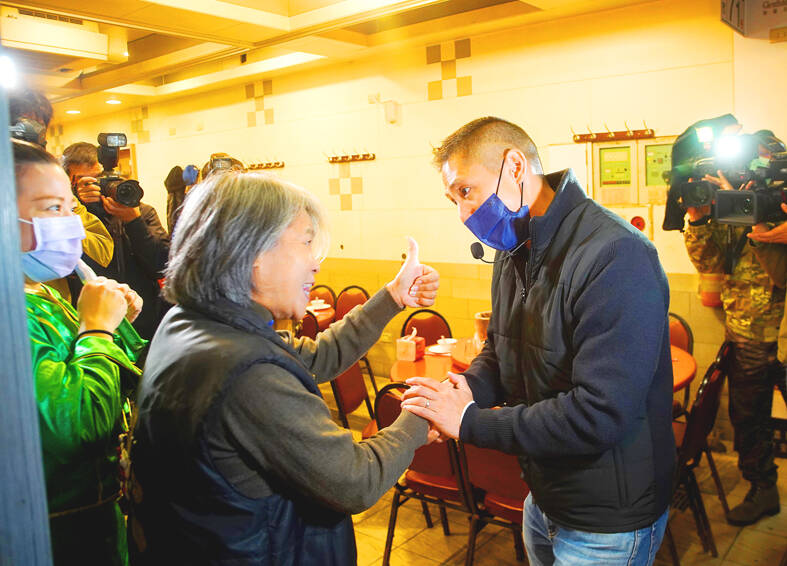 Democratic Progressive Party Taipei by-election candidate Enoch Wu, right, holds the hand of a supporter while canvassing in the city yesterday.
Photo: CNA
"Voters expect all candidates to present plans, so that they know what the candidate, if elected, would do and what policies the candidate would support in the name of their electorate," he said, adding that Wang has no "constructive suggestions."
Wang did not hold any campaign events, after she on Thursday tested positive for COVID-19.
However, she continued her campaign online, posting several videos on her social media channels, including one in which she said that "Wu [is the] favorite boy candidate chosen by President Tsai Ing-wen (蔡英文)."
However, several government agencies disagree with Wu's proposals, Wang said, implying that his candidacy led to friction within the government.
Wu rejected the accusations and accused KMT members of running a "dirty campaign," in which KMT Taipei City Councilor Hsu Chiao-hsin (徐巧芯) called him "a giant baby."
KMT Culture and Communications Committee deputy director-general Huang Tzu-che (黃子哲) also weighed in, calling him a "pus-filled cyst," a play on his given name in Chinese.
"This is a highly personal insult," Wu said, referring to Huang's comment. "It once more shows that the KMT does not respect the electorate ... I believe most voters cannot accept such talk."
"In a democratic election, candidates should aspire to take the high road and show respect," he said. "However, it is not possible for us to ask the opposition to refrain from personal attacks. It is up to the people to use their votes and chose a candidate who stands for good policies."
Separately, Wu's campaign office said in a statement that "KMT officials have engaged in personal attacks that go beyond what is appropriate."
The words KMT officials used to describe Wu were "crass" and "vicious," the statement said.
"Does KMT Chairman Eric Chu (朱立倫) condone such actions? Or has the [KMT leadership] permitted party officials to engage in such personal attacks?" it asked.


Source: Taipei Times - 2022/12/18