The Dalai Lama on Wednesday said he is willing to visit Taiwan again whenever possible, adding that he hopes Taiwan could change China "through the power of democracy and freedom."
The Tibetan spiritual leader made the remarks at his residence in Dharamsala, India, while meeting members of the Taiwan Chamber of Commerce in Delhi.
He told the visitors that Buddhism is not just a religion, but also a philosophy and a science.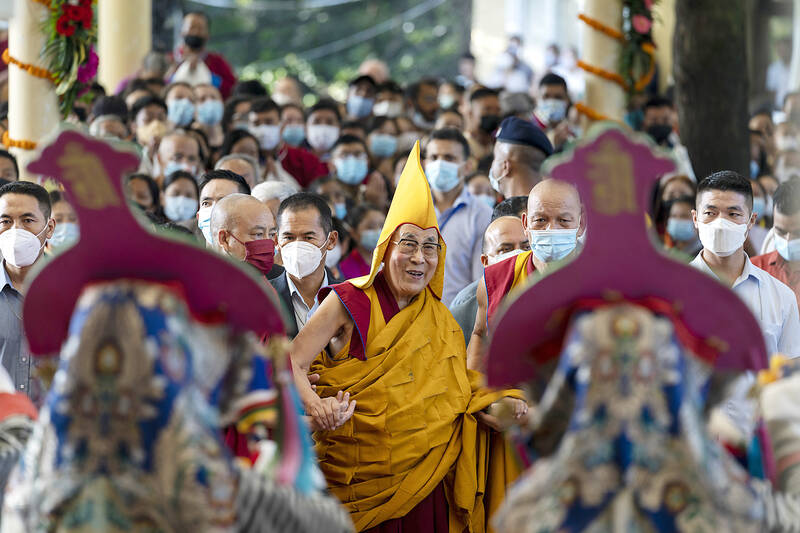 The Dalai Lama, center, watches a dance performed by Tibetan artists at the Tsuglakhang temple in Dharmsala, India, on Sept. 7.
Photo: AP
Although the Chinese Communist Party occupies Tibet and suppresses its culture, the faith of Tibetans has not wavered, he said, adding that he felt the people's fondness for him and for Buddhism during a recent visit to the Himalayas.
Asked whether he would visit Taiwan again, the Dalai Lama said he would visit whenever convenient once the COVID-19 pandemic is over.
He added that he has a deep impression of Taiwan from his three previous visits, and jokingly reminded the visitors to treat him to authentic Taiwanese food when the occasion comes.
When he was asked during a news conference in November last year about visiting Taiwan, the Dalai Lama said he had no plans to do so because Taiwan-China relations were "quite delicate" and he did not want to "cause local political difficulties."
Although the discussion on Wednesday mostly covered religious topics, the Dalai Lama also praised Taiwan's democracy and rule of law.
The crux of cross-strait problems lies with China, he said, suggesting that Taiwan use the power of its freedom and democracy to influence China.
On the topic of Tibet's future, he said that he no longer seeks political independence, but instead "genuine autonomy" within China's framework to preserve Tibetan religion, culture and ethnic identity.


Source: Taipei Times - 2022/12/17