Legislative by-election candidate Enoch Wu (吳怡農) on Wednesday voiced support for the government's plan to extend conscription to one year, saying that its efforts in the past few years have borne fruit to bolster Taiwan's sovereignty and the military capabilities needed to safeguard its citizens.
"For our national security, the only goal is to prevent war," said Wu, the Democratic Progressive Party (DPP) candidate in the by-election in Taipei on Wednesday, which was called to fill the legislative seat vacated by Taipei mayor-elect Chiang Wan-an (蔣萬安) of the Chinese Nationalist Party (KMT).
"Vote for the DPP, then you do not need not go to war," Wu said, calling it a potential slogan for her campaign. "The only way to maintain peace is military preparedness."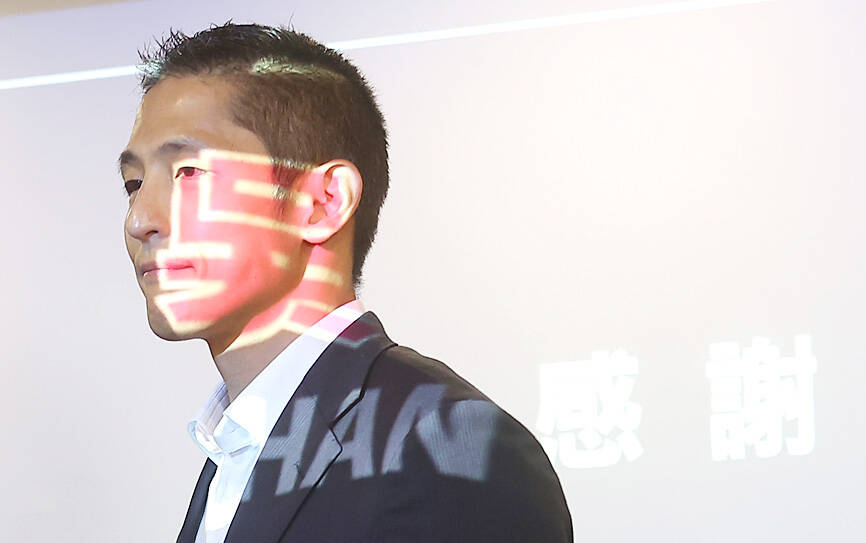 The Chinese character Wu is projected on the face of Democratic Progressive Party legislative by-election candidate Enoch Wu as he attends a news conference in Taipei yesterday.
Photo: CNA
This should be a consensus among all parties in Taiwan, he said, adding that there should be no "partisan politics" involved in discussing the issue.
The slogan rectifies statements by Taipei City Councilor Wang Hung-wei (王鴻薇), the KMT's candidate in the by-election, and other officials of the party, Wu said, citing them as saying on the campaign trail that voting for the DPP means sending young Taiwanese to war.
The KMT's slogan distorts reality, Wu said, echoing other DPP officials' criticism of Wang's campaign messaging, which they say advocates for nonresistance to a potential Chinese invasion of Taiwan.
In a news release, the DPP yesterday chided Wang's campaign for focusing on "smearing" Wu.
His campaign is "toxic" and "negative," and features daily verbal attacks and false accusations, the DPP said, adding that Wang does not offer constructive suggestions.
"Nearly 80 percent of people agree on extending conscription to one year [and] on revamping training programs" for the military, the news release said, citing recent polling data.
However, Wang claims that Wu's position on the issue is "futile campaign rhetoric," it said.
The extension of conscription, currently four months, is "very important for national security, and not futile rhetoric... So we ask Wang: What is your stance on this issue?" the DPP said.
"We are facing serious military threats from China, so Taiwan needs to have strong ... armed forces," it said, adding that Wu has made her position on national security issues clear, while Wang, when asked about his position, "was unable to respond."
"Wang has avoided direct questions" on the issue and resorted to "hollow political talk to mislead the public," the DPP said, adding that Wang is not a trustworthy candidate.
Separately, DPP lawmakers said Wang had previously appeared as a guest in political talks shows on China Central Television (CCTV), in which she referred to President Tsai Ing-wen (蔡英文) as a "leader," as is common on Chinese state media.
On the shows, Wang implied that Taiwan is not an independent country, but a province, the lawmakers said.
Wang told the hosts that Tsai was just following orders from the US, and that her administration engages in repression and has implemented undemocratic restrictions, the lawmakers said.
Wang kowtowed to the Chinese government and castigated Taiwan, telling the Chinese audience "what they wanted to hear," the lawmakers said.
Wu said that "elected officials should speak up for Taiwan" and help it "gain more international support."
Elected officials "should not denigrate Taiwan's sovereignty when appearing on foreign media," Wu added.
Taiwanese democracy advocate Lee Ming-che (李明哲), who spent five years in prison in China after he was arrested after entering the mainland form Macau in 2017, echoed Wu's comments.
In prison, he was forced to watch political talk shows on CCTV, which sometimes featured figures of Taiwan's pan-blue camp, including Wang, said Lee, who was released in April.
These talk show guests, purportedly representing Taiwan, always condemned the policies of the Tsai administration, but never criticized Beijing for their abuses of Chinese citizens and their human rights, Lee said.


Source: Taipei Times - 2022/12/16