The US aims to "ensure that it is not easy or cost-free" for China to use military aggression against Taiwan, a senior US defense official told a seminar in Washington on Thursday.
China is unlikely to attempt a rash invasion of Taiwan in 2027 — a goal assumed by some analysts — but the US would continue to strengthen its regional deterrence in the Indo-Pacific region to ensure that China is aware that such an attempt would be very costly, US Assistant Secretary of Defense for Indo-Pacific Security Affairs Ely Ratner said.
He made the comments during a seminar titled "Unpacking the Pentagon's 2022 China Military Power Report," held by the Washington-based American Enterprise Institute think tank.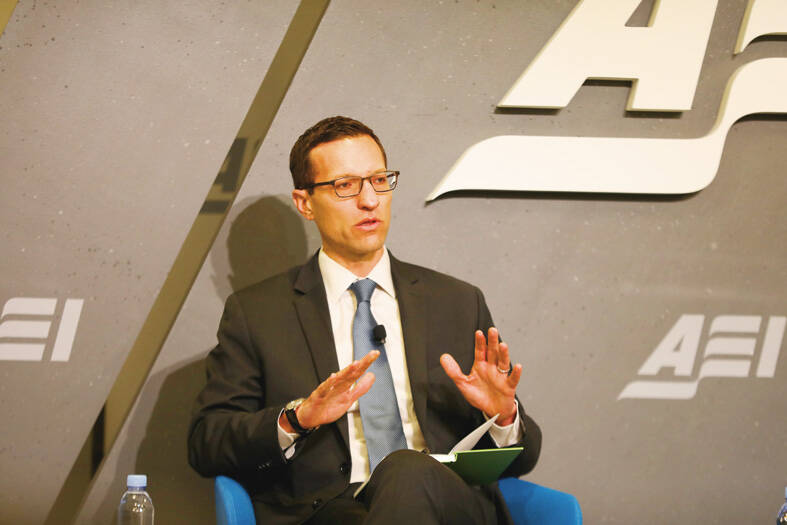 US Assistant Secretary of Defense for Indo-Pacific Security Affairs Ely Ratner speaks at a seminar hosted by the American Enterprise Institute in Washington on Thursday.
Photo: CNA
Ratner said he thinks that next year is "likely to stand as the most transformative year in US force posture in the [Indo-Pacific] region in a generation."
"We're going to be making good on a strategic commitment" on deterrence that is "more lethal, more mobile, more resilient and exactly reinforcing" to "make some of these rapid, low-cost invasions nearly impossible," Ratner said.
"Our goal is to ensure that that is never easy for them to do rapidly or cost-free," he added, referring to Beijing potentially trying to seize Taiwan by force.
Beijing has said it aims to achieve certain milestones in the development of its military in the years 2027, 2035 and 2049, with the goal of displacing the US as the world's top military power by 2049.
Some analysts have cited 2027 as when China might attempt an invasion of Taiwan, although Ratner disagrees.
There is no indication that China would attack Taiwan in 2027, although there is a consensus in the US Department of Defense that Taiwan's regional deterrence must be urgently strengthened and maintained, Ratner said.
US Deputy Assistant Secretary of Defense for China Michael Chase, who also attended the seminar, quoted former US Indo-Pacific command head admiral Philip Davidson in reference to the US' role in the region.
The US must ensure that when Beijing examines the Taiwan issue, it concludes that "today is not the day" to become militarily aggressive against Taiwan, he said.
Ratner referred to the Taiwan-related provisions in the Fiscal Year 2023 National Defense Authorization Act, saying that the authorization of US$10 billion in military aid for Taiwan over the next five years symbolizes cooperation between US Democrats and Republicans toward Taiwan's defense.
Bipartisan support in Washington sends a clear message to Beijing that the more it engages in acts of intimidation and coercion, the more urgently Washington would sense that it must assist Taiwan in bolstering its deterrence and military capabilities, he said.
Asked whether Washington would object to a future US House of Representatives speaker visiting Taiwan — given China's reaction when House Speaker Nancy Pelosi visited in August — Ratner said the decision would be made by the members of the US Congress and Taiwan.
The speaker would also be advised to assess whether such a visit is worth any predictable consequence, he added.


Source: Taipei Times - 2022/12/10