Democratic Progressive Party (DPP) Legislator Lo Chih-cheng (羅致政) yesterday proposed a draft amendment to the Civil Servants Election and Recall Act (公職人員選舉罷免法) that would bar people who have been convicted of security breaches from running in national or local elections.
People convicted of offenses relating to organized crime, money laundering, firearms or drugs would be barred from election to civil servant positions if the amendments pass, Lo said on Monday, when the amendments were being drafted.
Since then, further restrictions were added barring candidacies of those who have been found guilty of security breaches under the Anti-infiltration Act (反滲透法), the National Security Act (國家安全法), the Classified National Security Information Protection Act (國家機密保護法) and the National Intelligence Services Act (國家情報工作法).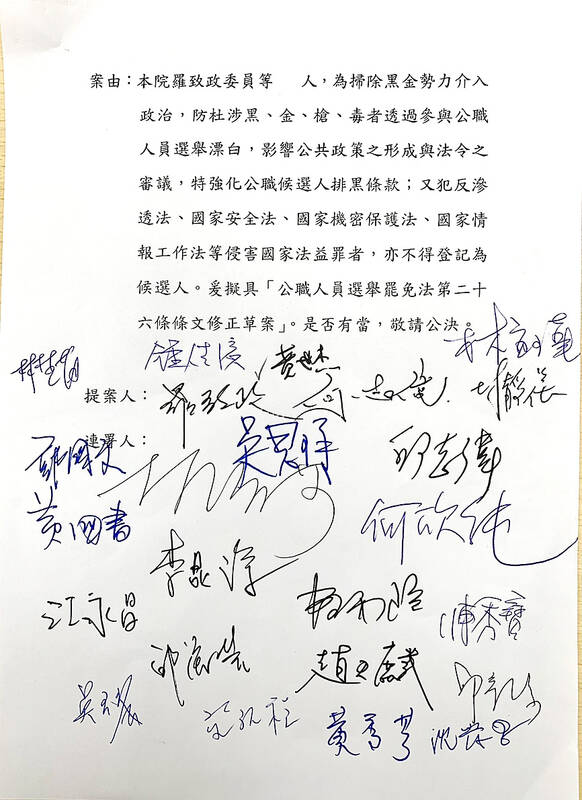 A petition for proposed amendments to the Civil Servants Election and Recall Act shows the signatures of lawmakers yesterday.
Photo courtesy of Lo Chih-cheng's office
It is hoped that the amendments can be passed in the next legislative session, to begin in February, and promulgated before the 2024 legislative and presidential elections, he said.
The DPP caucus is waiting to examine similar proposed amendments that are expected from other lawmakers and the Executive Yuan, and would consider integrating their ideas before introducing its own amendment to the legislature, he added.
Lo's draft is to be submitted to a preliminary committee review rather than undergo procedures for a second reading, as the amendments would have far-reaching effects and require a careful review, he said.
Separately yesterday, Premier Su Tseng-chang (蘇貞昌) instructed the Cabinet to submit its version of the draft amendments by Thursday next week, Executive Yuan spokesman Lo Ping-cheng (羅秉成) said, adding that the Cabinet version is to include input from additional stakeholders.
Lo Ping-cheng said Su has instructed him to supervise and direct the Ministry of Justice and the Ministry of the Interior to submit and pass the draft amendments "as an active response to public expectations" that people with such criminal records would be barred from the next national election.
The proposal is not meant to discriminate against former convicts, but to apply higher standards to those who would have public power and control public resources, the spokesman added.
Additional reporting by Chung Li-hua


Source: Taipei Times - 2022/12/09