Small parties on Saturday made political inroads by winning local seats in the nine-in-one elections.
In its first time competing for local government offices since its formation in August 2019, the Taiwan People's Party (TPP) won 14 city and county councilor seats, performing the best among the smaller political parties.
The TPP, chaired by Taipei Mayor Ko Wen-je (柯文哲), secured four seats in the capital, Taipei, and a total of 10 in New Taipei City, Hsinchu City, Taichung, and Changhua, Hsinchu, Hualien, Nantou and Yunlin counties.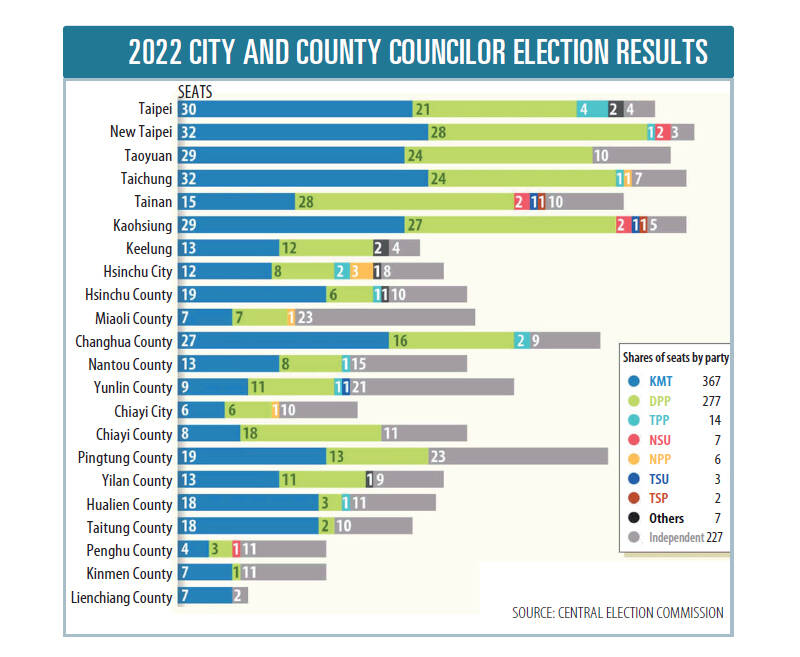 The TPP won more seats than older counterparts such as the New Power Party (NPP), which secured six seats, the Taiwan Solidarity Union (TSU) with three seats, the Taiwan Statebuilding Party with two, and the New Party and the Social Democratic Party with one seat each.
The TPP fielded 90 candidates in Saturday's elections, including 48 in the six special municipalities — Kaohsiung, New Taipei City, Taichung, Taipei, Tainan and Taoyuan — which showed that the party was focused on urban areas, observers said.
The NPP lost ground with the number of seats it held at the city and county level falling sharply from 16 to six, after it lost all five of its seats in Taipei.
The party said it failed to meet its expectations in the elections and expressed regret to its supporters.
NPP Chairwoman Chen Jiau-hua (陳椒華) yesterday also announced that she was resigning from her post.
TSU Chairman Liu Yi-te (劉一德) said his party put forward five candidates for city and county council seats, winning one each in Yunlin County, Tainan and Kaohsiung.
In the six special municipalities, where a total of 377 councilor seats were up for grabs, the Chinese Nationalist Party (KMT) won 167, the Democratic Progressive Party (DPP) took 152, the TPP gained six and the NPP secured one.
Of the 533 seats in the other 16 cities and counties, the KMT won 200, the DPP 152, the TPP eight and the NPP five.


Source: Taipei Times - 2022/11/28