A draft act to overhaul military base security and ban the use of drones near their premises cleared the first reading at the Legislative Yuan in Taipei yesterday.
Democratic Progressive Party (DPP) legislators Wang Ting-yu (王定宇) and Michelle Lin (林楚茵) said they proposed the legislation because security standards at military bases and during military drills are based on administrative orders.
Such orders are widely considered a weak legal basis and would be overruled if they are found to conflict with other laws, they said.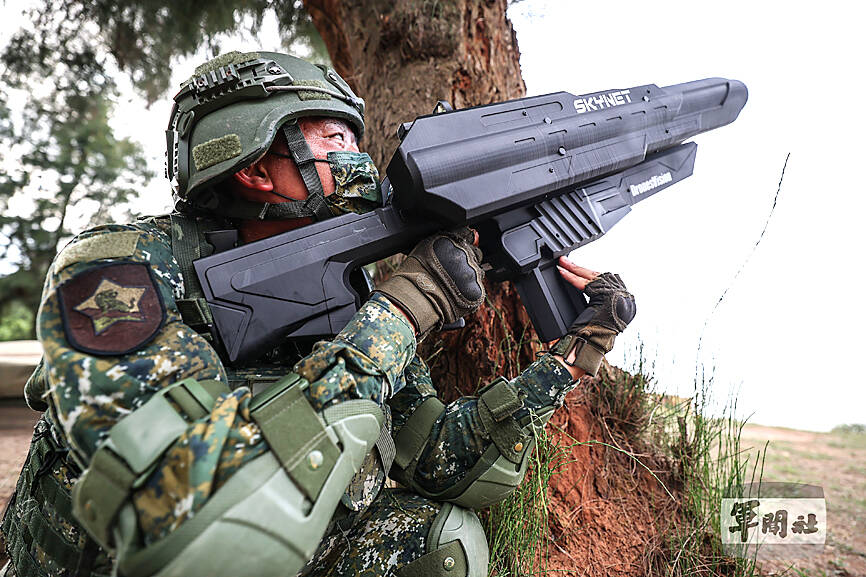 A Kinmen Defense Command member uses a drone-jamming gun in an undated photograph.
Photo courtesy of the Military News Agency
The draft act defines patrol methods, safety measures and bans practices that might compromise military base security, including the use of civilian drones.
The proposed legislation comes amid reports of increased civilian drone intrusions near military facilities on outlying islands, with the activity suspected to come from China.
The draft is next to be discussed by the National Defense and Foreign Affairs Committee.
The draft seeks to provide a legislative basis for patrols, guard duty, safety measures, restrictions, bans, contingency measures, reparations and punitive measures, Wang and Lin said.
The draft would also apply to security measures at the Presidential Office Building and the National Security Bureau, they added.
Under the draft act, people entering military bases without authorization could be fined NT$40,000 to NT$200,000 after a first warning and ordered to leave the base immediately. Those who fail to comply with such orders would be fined NT$60,000 to NT$300,000 and could be fined repeatedly. Flying drones would be banned over military drill areas, training areas or military bases, and contravention would lead to fines of NT$60,000 to NT$300,000, with repeated fines possible.
The draft also defines eight circumstances in which base commanders, on-duty military units, noncommissioned officers, guards and sentries are authorized to use weapons.
Guards and sentries must take necessary precautions and should only use weapons under the orders of a base commander, an officer on duty or a noncommissioned officer, the draft says.
Guards and sentries must warn a person before they raise or use weapons against them and must file a report with their commanding officer after such an incident, the draft act says.
People who are found recording video footage, taking pictures, sketching or taking notes at military facilities, as well as measuring their premises, would face prison terms of six months to three years, it says.
The draft also bans photography and recording equipment, as well as any other equipment that could compromise military security, at military bases.
People found to have such equipment would be warned and asked to hand over their equipment, and if they do not heed the warning, they would be banned from the site and fined NT$10,000 to NT$50,000, the draft says.


Source: Taipei Times - 2022/11/26