Taiwan is to join other democracies in helping Ukraine recover from the Russian invasion, and share its experience with countering authoritarian threats with the world, President Tsai Ing-wen (蔡英文) late on Wednesday told the "Struggle for Freedom" forum in Dallas, Texas, hosted by the George W. Bush Presidential Center.
"For Taiwan, democracy is more than a fundamental value that unites our people; it is also a critical asset in addressing major challenges. Taiwan is now in the position to share its experience with the world and create alliances, allowing democracies to more effectively deal with crises and counter the threats of authoritarianism," Tsai said via videoconference.
"As we observed Russia's illegal invasion of Ukraine from the other side of the world, Taiwan has been honored to play a role in assisting Ukraine in its struggle to defend its sovereignty and freedom," she said. "Together with like-minded partners, we will also make efforts to support Ukraine's reconstruction of its schools, hospitals and infrastructure that have been destroyed by the war."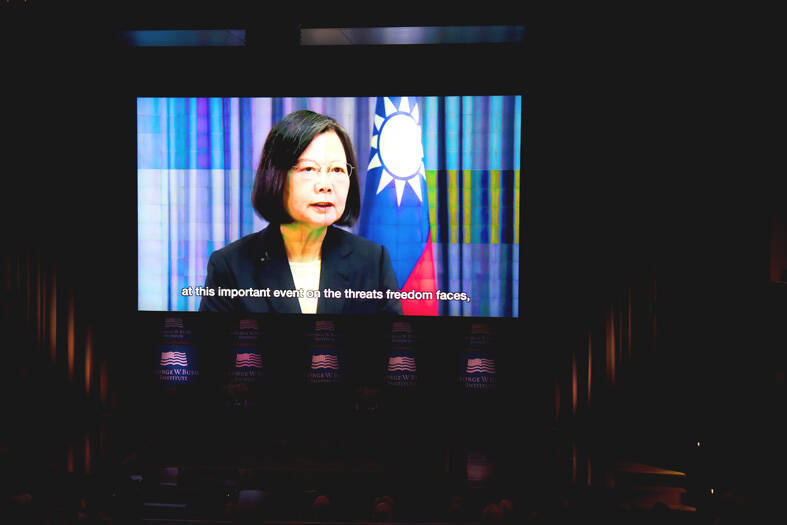 President Tsai Ing-wen addresses the "The Struggle for Freedom" forum via videoconference at the George W. Bush Presidential Center in Dallas, Texas, on Wednesday.
Photo: AP
Tsai said that the forum could not have been held at a more significant time, as democracies and the rules-based international order are challenged on a daily basis.
Russia's unprovoked invasion of Ukraine "is proof that dictatorships will do whatever it takes to achieve their goal of expansionism," she said, adding that the danger of authoritarian regimes corroding democratic institutions, and tarnishing human rights and civic space cannot be ignored.
Taiwanese have experienced their own struggle for freedom, from being ruled by an authoritarian regime during the Martial Law era to facing rising military threats from China, Tsai said.
"From daily military intimidations, gray zone activities and influence operations to cyberattacks and periodic attempts at economic coercion, China has taken a range of actions with the goal of creating doubt and undermining confidence in what the Taiwanese people have worked so diligently for — our democratic way of life," she said.
"At the heart of this struggle was the embrace of democracy ... and once the Taiwanese people took this path, there was no turning back," she said.
Taiwanese continue to face persistent threats from China with calm and composure, and have never shied away from utilizing their skills and expertise to counter authoritarian interference, she said.
Tsai also lauded the center's efforts to tackle disinformation, advance human rights and other important issues that she said would enhance the public's understanding of authoritarian tactics.
The organizers originally scheduled a conversation between former US president George W. Bush and Ukrainian President Volodymyr Zelenskiy, but Zelenskiy was unable to attend as Russia launched a sweeping attack on Ukrainian infrastructure on Tuesday, leaving millions of households without power.
He was replaced with former US assistant secretary of state for democracy, human rights and labor David Kramer, who is the center's executive director.
Bush said the US should care about whether Ukraine survives, because it is in the US' national interest, not just in its moral interest.
"What will Europe look like 10 years from now if Putin conquers Ukraine? The whole strategic balance in Europe would shift dramatically, and it would affect us from a security and economic perspective," Bush said. "The amount of money going to Ukraine is small compared to that we spent elsewhere, and yet the consequences for failure are significant, not only for the Ukrainian people, but for our own country."
Unlike former US president Donald Trump, who twice met with North Korean leader Kim Jong-un, Bush said that, if possible, he consciously chose not to meet with autocratic leaders during his time as president, fearing the move would lend legitimacy to their regimes.
"I didn't want to lend our great status as a beacon of freedom to honoring an autocrat," he said, adding that he always highlighted freedom of religion when meeting with Chinese leaders.


Source: Taipei Times - 2022/11/19