The Ukrainian military is planning to hold a farewell ceremony in Kyiv to honor Tseng Sheng-guang (曾聖光), a Hualien County-native who died fighting for Ukraine last week.
"He proved himself as a disciplined, balanced, brave warrior," Vasylyna Nakonechna, a press officer at the military's Carpathian Sich Battalion, said on Wednesday.
Tseng, 25, was a member of the International Legion of the Ukrainian Territorial Defense Forces. He died during a combat mission in the contested Luhansk region on Wednesday last week, making him the first Taiwanese volunteer combatant to die in the Ukraine war.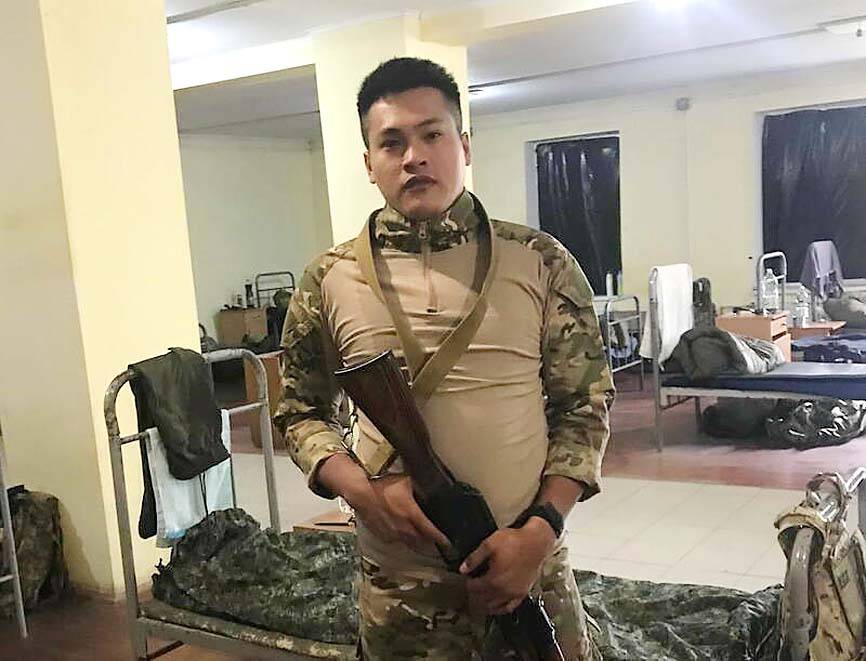 Tseng Sheng-guang poses in an undated photograph.
Photo: screen grab from Facebook
Nakonechna said Tseng served two years in the Taiwanese army before on Aug. 19 joining the Carpathian Sich, an infantry unit made up of foreign and Ukrainian volunteers.
Nakonechna said she had met Tseng several times.
"He was a nice boy, always smiling and smart," she said, adding that while some volunteers come to Ukraine "because they cannot do another work," Tseng was motivated by his desire to "fight evil" and help civilians, especially women and children.
The battalion consists of several companies, with Tseng's saying that it is especially saddened by its loss, but "you can lose everyone in every second, and at any time," Nakonechna said.
Battalion Deputy Chief of Staff Ruslan Andriyko said Tseng was a courageous defender of Ukraine, and offered his respect to Tseng's family.
Many volunteers "leave a peaceful life, at home and with a family, to get into the hell of war, mud, rain, frost, a cold trench in which the hot hearts of brothers beat under constant shelling and weeks without sleep. These are the conditions under which he spent his last days," Andriyko said.
Nakonechna said Tseng's body has been transported to Dnipro, southeast of Kyiv.
A farewell ceremony is to be held in Kyiv in his honor, but the date has yet to be confirmed, she said.
In Taipei, the Ministry of Foreign Affairs on Tuesday said that Tseng's family has left for Ukraine to identify his body and deal with matters related to his death.


Source: Taipei Times - 2022/11/11