Taiwan must be prepared to fend off a Chinese invasion, which has become more likely following Chinese President Xi Jinping (習近平) becoming the country's "emperor," Minister of Foreign Affairs Joseph Wu (吳釗燮) told Washington Post columnist Josh Rogin in an article published yesterday.
Xi's consolidation of power at the Chinese Communist Party's (CCP) 20th National Congress and his policy pronouncements at the event indicate that the invasion threat is increasing, the article cites Wu as saying in Taipei on Friday last week.
Xi made belligerent statements, promoted hardliners and "wolf warrior" diplomats, and amended the CCP constitution, which now says that China would "resolutely oppose and contain Taiwan independence," Wu said.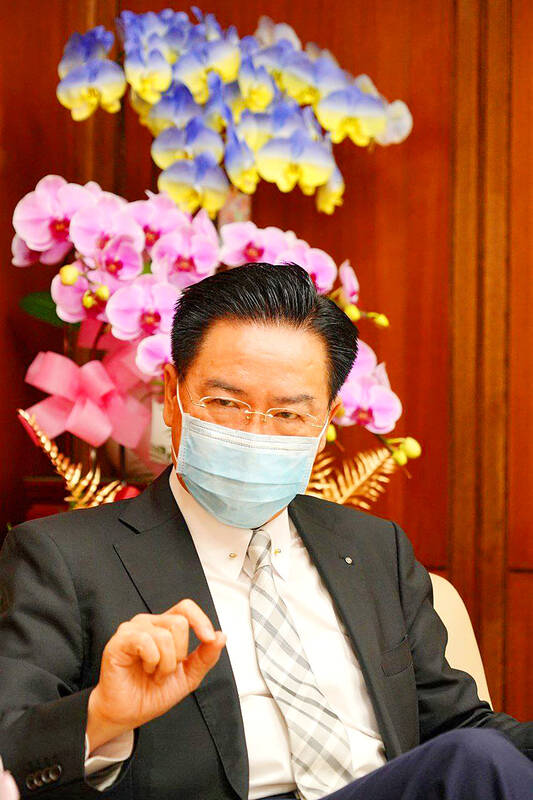 Minister of Foreign Affairs Joseph Wu gestures during an interview with the Washington Post on Friday last week.
Photo courtesy of the Ministry of Foreign Affairs
Experienced officials familiar with Taiwan affairs were demoted, suggesting that Xi prefers members of his inner circle as advisers instead of technocrats, he said.
In Taipei, government analysts fear that these developments could detach Xi from reality and alternative policy views, making him more inclined to recklessness and dangerous acts, similar to many totalitarian leaders before him, Wu said.
"It might show that Xi Jinping does not trust the bureaucracy in making Taiwan policy, and he seems to have his own small circle in thinking about Taiwan," Wu was quoted as saying. "And if Xi Jinping is so detached from the reality of the situation in Taiwan ... you can expect his policy toward Taiwan might not be as realistic as we hope."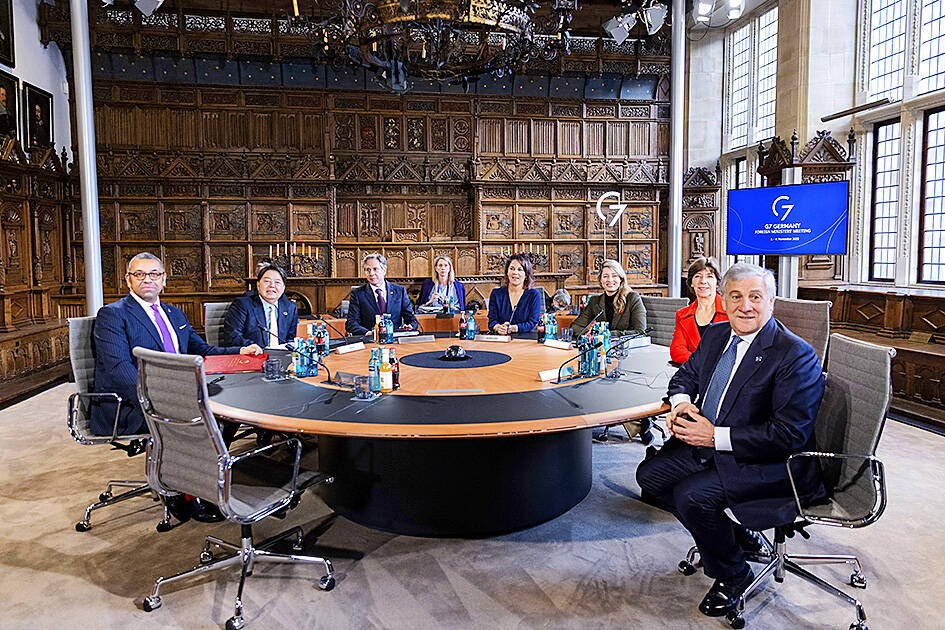 Blinken, German Foreign Minister Annalena Baerbock, Canada`s Foreign Minister Melanie Joly, Catherine Colonna, Foreign Minister of France, and Italy`s Foreign Minister Antonio Tajani pose for a photo at the Historic Town Hall during the G7 Foreign Ministers Meeting in Muenster, Germany, yesterday.
Photo: AP
Taiwan believes the risks of war would be the most acute as soon as Xi has confidence that China's armed forces can invade the country, Wu said.
Xi had deliberately sought to escalate the situation, as he did when US House of Representatives Speaker Nancy Pelosi visited Taipei in August, to which Beijing reacted by conducting drills, launching missiles and enforcing a quasi-blockade of Taiwan, he said.
The most sensitive moments in the Taiwan Strait might be early and late 2024, when Taiwan and the US hold respective presidential elections, he said.
Xi would then be near the end of his third presidential term and he could desire to cement his historical legacy by invading Taiwan, Wu said.
Asked about Taiwan's military preparation, Wu said: "We only have one plan — that is, to defend ourselves."
Taiwan is absorbing the lessons of the Russia-Ukraine war as it updates its defense strategy, he said, adding that the nation now places an emphasis on creating a backup communication infrastructure, stockpiling strategic material, hybrid warfare capabilities and improving the military reserves.
Wu said the world's democracies might grow tired of supporting Ukraine.
However, if Taiwan falls, China would be emboldened to make further advances, Wu added.
Should that happen, the costs of stopping Beijing would become higher, he said.
Beijing's short-term goal for Taiwan is to sow internal discord and panic, Wu separately told the Chinese-language Liberty Times (the sister newspaper of the Taipei Times) in an exclusive interview yesterday.
The best response to China is to stay vigilant without Taiwan losing its nerve, because China's immediate goal is not to mount a military attack, but to undermine Taiwan's democracy by planting distrust and fear, Wu said.
"China wants us to panic. [So] we must show them that 'we are not afraid of you,'" he said.
The public understands the severity of the threat, so Taiwan should strive to bolster its defenses, especially its military reserves, he said, adding the mobilization of local governments and the public would be key to overcoming a crisis.
The civil defense program offered by the Black Bear Academy is one of the ways the public can prepare to defend the country, he said.
However, China might succeed in overthrowing the rules-based international order and is engaged in doing so, Wu said.
Beijing's ambitions are global, he said.
Beijing's security treaty with the Solomon Islands can be understood as a breach of the first island chain, he said.
Beijing's Belt and Road Initiative is also a means to that end, Wu said, adding that Sri Lanka received no help from Beijing when it faced bankruptcy because China was not interested in the country after it had reached its aim: access to a mayor port.
Taiwan would get more help from the international community if the world knows of China's burgeoning ambitions and expansionism, he said.
"Our wish is to be safe from authoritarian rule," he said, adding that Taiwan believes in "freedom, democracy and human rights."
"Democracies should band together to resist China's bid to change the status quo," he said.
Separately, G7 foreign ministers yesterday reaffirmed the importance of peace and stability across the Taiwan Strait and said they would continue to aim for constructive cooperation with China.
In a joint statement, the foreign ministers of Canada, France, Germany, Italy, Japan, the UK and the US called for the peaceful resolution of cross-strait issues and said there was no change in the basic positions of G7 members on Taiwan, including their respective "one China" policies.
Additional reporting by Reuters


Source: Taipei Times - 2022/11/05