Sanctions imposed by the Chinese government on foreign officials have only encouraged more lawmakers from around the world to visit Taiwan, as their relations with the nation cannot be determined by others, Dutch lawmaker Sjoerd Sjoerdsma said in Taipei yesterday.
Sjoerdsma is visiting Taiwan as part of a delegation from the Inter-Parliamentary Alliance on China (IPAC). The group arrived on Tuesday.
An outspoken critic of China's human rights abuses in Xinjiang, Sjoerdsma was banned in March last year from entering China, after the EU imposed sanctions on four Chinese officials for what it said were their roles in perpetrating Uighur genocide.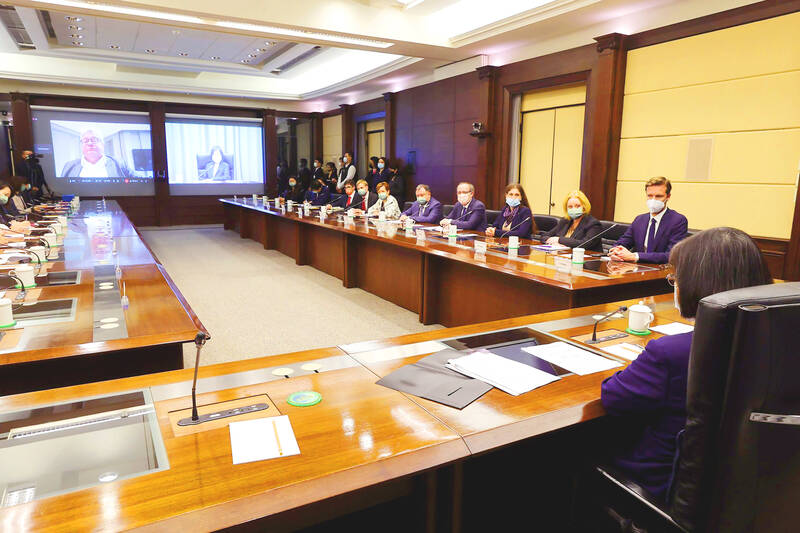 President Tsai Ing-wen, front right, meets with a delegation from the Inter-Parliamentary Alliance on China at the Presidential Office in Taipei yesterday.
Photo courtesy of the Presidential Office
"The EU sanctions people who commit human right violations, but Beijing sanctions people who stand up for human rights, which is not only ironic, but a very sad situation," Sjoerdsma told a news conference.
The delegation's visit to Taiwan sends a message to Beijing in the wake of the Chinese Communist Party's (CCP) 20th National Congress late last month, he said.
"The core message of our visit here is a message of solidarity, to show just after the party congress in Beijing that Taiwan is not to be isolated, but that contacts will only increase," Sjoerdsma said. "We will not be intimidated, and we will be coming over [to Taiwan] more often, and our relations and our friendship are not to be determined by others."
Sjoerdsma said he and many other Dutch lawmakers have long been trying to hold substantial dialogue with China, not only on human rights issues, but also on matters of mutual interest such as climate change.
However, whenever an invitation is extended to Chinese ambassadors to discuss those issues, their first response is usually to ask the lawmakers not to visit Taiwan or speak out about human rights in China, Sjoerdsma said.
IPAC is an international cross-party group of legislators from 29 countries who are working to reform their nations' approach to China, according to its Web site.
Els Van Hoof, an IPAC cochair and a member of the Belgian Chamber of Representatives, said the alliance is not an "anti-China group," but the opposite.
"We are in IPAC precisely because we are interested in China," but China's rise cannot be at the expense of global democracy and human rights, she said.
Specifically, the "status quo" in the Taiwan Strait cannot be changed unilaterally by the People's Republic of China, Van Hoof said.
The 12-member delegation, led by IPAC cochair and European Parliament Member Reinhard Butikofer, is to conclude its visit today.
Butikofer, who tested positive for COVID-19 after his arrival and was hospitalized, was yesterday in a virtual ceremony awarded the Grand Medal of Diplomacy by Minister of Foreign Affairs Joseph Wu (吳釗燮) in recognition of his decades-long efforts to promote Taiwan-Germany relations.
President Tsai Ing-wen (蔡英文) in a meeting with the delegation called for democratic countries to work together in defense of their shared values and emphasized the advantage Taiwan's semiconductor sector provides in helping reshuffle global supply chains.
Taiwan aspires to work with democratic partners to build more secure and resilient global supply chains through investment cooperation and technology exchanges, Tsai said.
Butikofer told the ceremony said that IPAC members also looked forward to boosting partnerships between their countries and Taiwan, especially in the field of trade and investment, the Presidential Office said.
IPAC members advocate the signing of a bilateral investment agreement between Taiwan and the EU, Butikofer said on behalf of the delegation whose members are all from Europe.
In a separate meeting, Heino Klinck, a former US deputy assistant secretary of defense for East Asia, told Tsai that China had chosen "systematic competition" with democratic nations and was attempting to rewrite the existing international order to its own benefit.
It is important that like-minded countries "band together to strengthen deterrence in all domains in order to ensure that competition does not lead to conflict," said Klinck, who is the principal of consulting firm Klinck Global LLC.
Tsai told Klinck and other think tank experts who attended the meeting that Taiwan would continue to improve its self-defense capabilities while boosting its connections with democratic partners around the world.


Source: Taipei Times - 2022/11/04