The US needs to maintain security and ensure the peaceful resolution of disputes in the Pacific region, as a cross-strait crisis would be "bad for the entire world," US Secretary of State Antony Blinken said on Friday.
Blinken was asked in an interview on Canadian television channel TVA Montreal if Russia's invasion of Ukraine has raised concerns in Washington about the risk of a Chinese attack on Taiwan.
"It is a worry to us because ... [we] are seeing more repression in China and more aggression on the outside, including on Taiwan," Blinken said.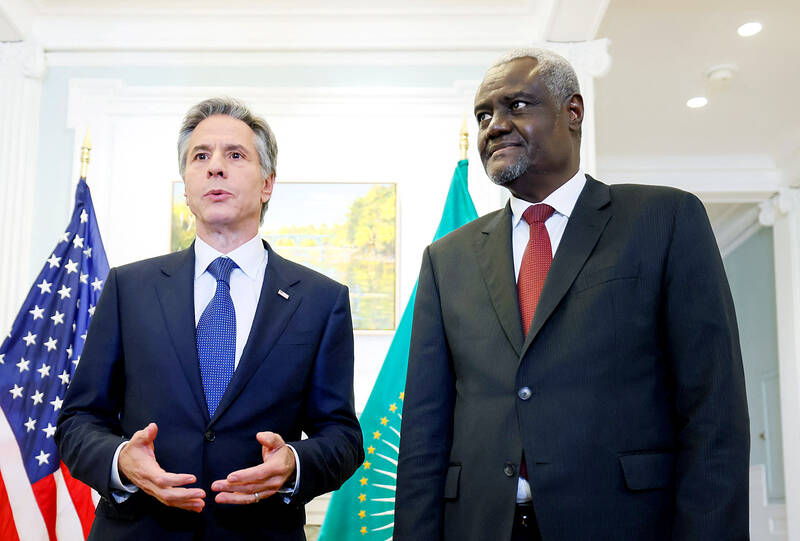 US Secretary of State Antony Blinken after talks in Ottawa on Thursday speak to reporters as African Union Commission Chairman Moussa Faki Mahamat looks on.
Photo: REUTERS
Taiwan's 50 years of success — made possible by the peace and stability that prevail in the region — could be jeopardized by an increasingly assertive Beijing, he said.
"Maritime trade in that area represents 50 percent of global trade every day," he added.
Most of the world's smartphones and other devices use semiconductors made in Taiwan, he said.
As a crisis in Taiwan "will be bad for the entire world," the US must "maintain security ... [and] resolve issues" in the Pacific region peacefully, he said.
The US top diplomat has in the past few weeks issued a series of warnings about the risk of war in the Taiwan Strait.
Speaking at Stanford University on Monday last week, Blinken said that Beijing plans to annex Taiwan on a "much faster timeline" and has decided that the "status quo" is no longer acceptable.
He reiterated the statement two days later at a US Department of State news conference.
Separately, Lieutenant General James Jarrard, deputy commanding general for the US Army Pacific, at a teleconference hosted by the Pentagon on Thursday said that the US is "doing everything we can to prevent and deter tensions from escalating into a crisis or even a conflict" between Taiwan and China.
The US is working with its allies and partners toward preserving "a peaceful environment" in the Indo-Pacific region, he said.
Jarrard refused to comment on the likelihood of Taiwan participating as an observer in the Joint Pacific Multinational Readiness Capability (JPMRC) exercise taking place in Hawaii from tomorrow to Nov. 9.
"We are continuing to provide assistance to Taiwan, just like we have done previously, and want to make sure that we are doing what we can to help them maintain the status quo, just as our senior civilian leaders have directed us to," he said.
JPMRC rotation 23-01 is a multinational exercise involving the US Army's 25th Infantry Division, 354 participants from the armies of Indonesia, the Philippines and Thailand, and observers from 12 countries.
The drills at the newly established Joint Pacific Multinational Readiness Center are designed to improve the readiness and capabilities of US and allied forces when conducting joint operations on archipelago and jungle terrain common to the region, the US Army Pacific said.


Source: Taipei Times - 2022/10/30