US Secretary of State Antony Blinken on Wednesday accused China of undermining a decades-old "status quo" that has kept Washington and Beijing from going to war over Taiwan, saying China was trying to "speed up" its seizure of the nation.
"What's changed is this — a decision by the government in Beijing that that status quo was no longer acceptable, that they wanted to speed up the process by which they would pursue reunification," Blinken said in an interview at Bloomberg's offices in Washington.
"They also, I think, made decisions about how they would do that, including exerting more pressure on Taiwan, coercion — making life difficult in a variety of ways on Taiwan in the hopes that that would speed reunification," he said.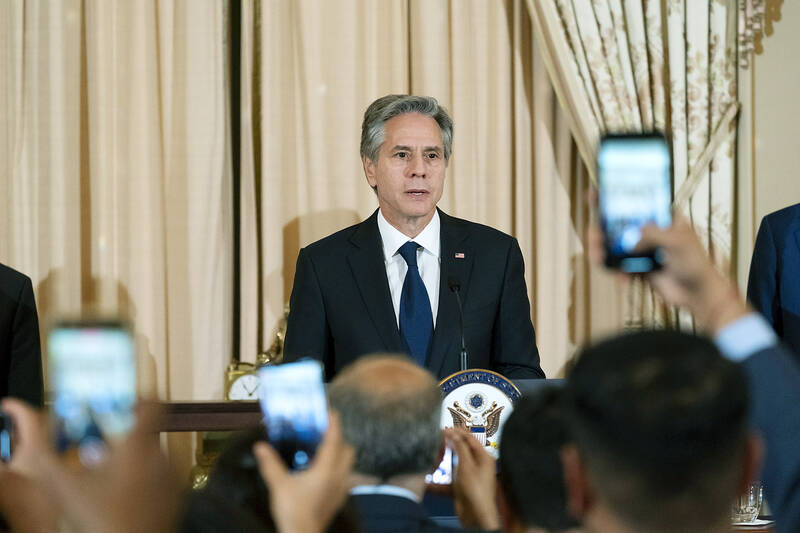 US Secretary of State Antony Blinken speaks during an event to celebrate Diwali at the US Department of State in Washington on Wednesday.
Photo: AP
The latest comments from the top US diplomat rebuking China over Taiwan expand on Blinken's statements from last week that China might seize Taiwan on a "much faster timeline" than previously thought.
Blinken's latest criticism, part of a broader war of words between Washington and Beijing, also came shortly after Beijing wrapped up its twice-a-decade Chinese Communist Party congress, which saw Chinese President Xi Jinping (習近平) consolidate his power.
Taiwan remains the key flash point and the most likely source of conflict between the US and China. Tensions over the nation spiked dramatically when US House of Representatives Speaker Nancy Pelosi defied Beijing's warnings and visited Taipei in August.
Blinken said the US and China were now clearly engaged in a global competition to shape international affairs, with Beijing pushing back against the US to champion an "illiberal" world order.
"We don't look for conflict. We don't want a cold war. We're not trying to contain or restrain China," Blinken said. "But equally, we're resolute in standing up for our interests, standing up for our values. And again, when it comes to Taiwan, standing up for the proposition that's held for decades, that these differences need to be managed and resolved peacefully."
In Taipei, Ministry of Foreign Affairs (MOFA) spokeswoman Joanne Ou (歐江安) slammed China for conducting military drills in Taiwan's airspace and waters around the nation since August, saying that the drills raised cross-strait tensions without any provocation.
The US government has issued multiple joint statements with like-minded countries to show its concern for peace and stability in the Taiwan Strait, she said, adding that Taiwan is to continue strengthening its self-defense capabilities, the security partnership with the US, and cooperation with Japan and other like-minded partners to defend the country's sovereignty, democratic way of life, peace and an international order based on shared values.
Mainland Affairs Council Deputy Minister Chiu Chui-cheng (邱垂正) said the government is "steadfast in the defense of national sovereignty, freedom and democracy without any room for compromise."
The government insists on a free and democratic constitutional order, a mutually non-subordinate relationship with China, sovereignty and determining the future of the country with Taiwanese representing the social consensus in the nation, he said, adding that there can be no compromises on the four issues.
Additional reporting by Chen Yu-fu


Source: Taipei Times - 2022/10/28