Ukrainian lawmaker Kira Rudik on Monday thanked Taiwan for its support of Ukraine and said she hoped to learn from Taiwan's advanced security systems to combat Russian cyberattacks.
"Right now, Ukraine is at the forefront of that [fight for survival and democracy] and we need everybody as our allies," Rudik, leader of the Holos party, said in an online interview. "And this is why it is so important to acknowledge the support that Taiwan was giving to Ukraine, and the support is increasing and I want to extend my gratefulness for that."
Rudik, who is in Taipei to attend the 11th Global Assembly of the World Movement for Democracy, said that Taiwan is now perceived as a Ukraine ally and, like Ukraine, is fighting for its freedom.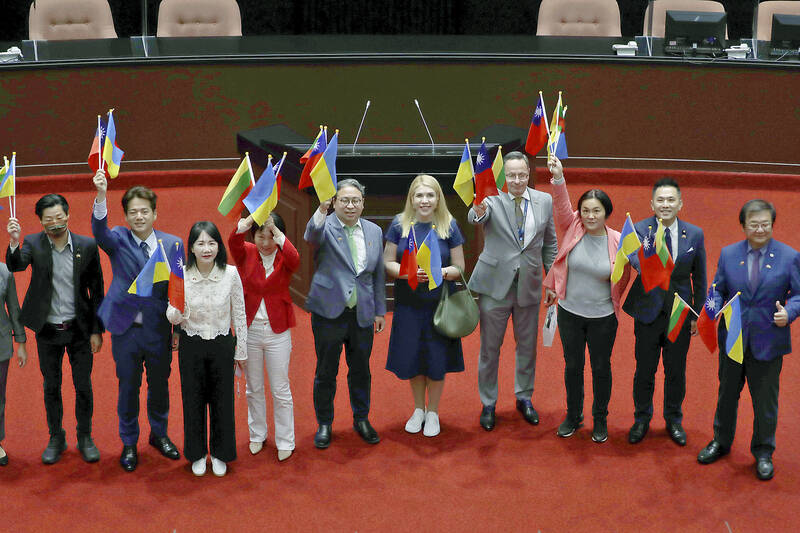 Ukrainian lawmaker Kira Rudik, sixth left, Lithuanian politician Zygimantas Pavilionis, seventh left, and Taiwanese legislators hold flags at the legislature in Taipei yesterday.
Photo: Chiang Ying-ying, AP
Ukrainians have received good wishes from Taiwan and saw video clips of solidarity demonstrations in Taiwan she said, adding that "this is very important to us."
Since Russia invaded Ukraine on Feb. 24, Taipei has joined global democracies in condemning Moscow, implementing sanctions against Russia and aiding Ukraine.
Rudik, who serves on her parliament's Committee on Digital Transformation, said in the interview that beyond attending the assembly, she also hoped to learn from Taiwan's advanced cybersecurity systems and its experience in combating cyberattacks.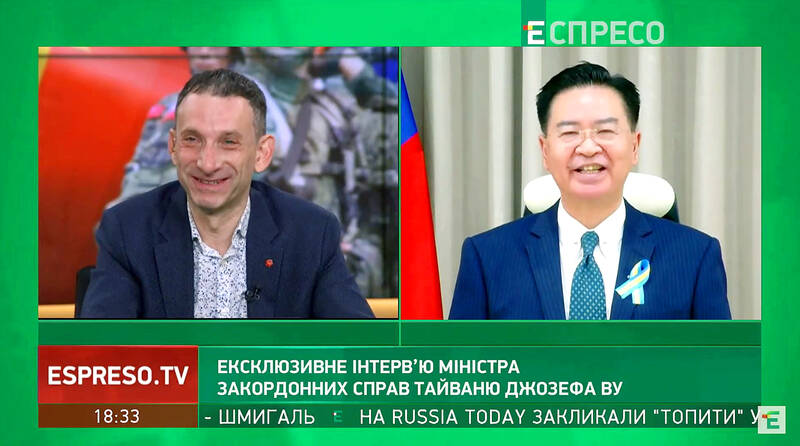 Minister of Foreign Affairs Joseph Wu, right, speaks with reporter Vitaly Portnikov during an interview on Espreso TV on Sunday.
Photo: Screen grab from Espreso TV by Lu Yi-hsuan, Taipei Times
Ukraine is moving forward with developing its own systems to support its troops, and she was interested in discussing digital transformation with representatives of the digital world in Taipei, she said.
Asked what advice she has for Taiwan as it faces military coercion from another authoritarian regime, Rudik said Ukrainians have learned to stay united, find allies wherever possible and beware of cognitive warfare.
No one knew Russian President Vladimir Putin was going to invade Ukraine so quickly, or Kyiv would have built more bomb shelters and taught people how to use them in advance to save more lives, she said.
"So we're learning it now, but we're learning it the hard way," she said.
Asked if Taiwan's support for Ukraine could lead to a review of its "one China" policy, Rudik said there might be a "huge change" in Ukrainian diplomacy, but the main focus now is to win the war.
Ukraine's China policy is constantly changing and the priority right now is to make sure that China is not involved in the war and supporting Russia, she said.
Because there are no direct signs indicating Beijing is supporting Moscow, Rudik said that Ukrainian leaders would likely keep the China policy as it is for now.
Separately, Minister of Foreign Affairs Joseph Wu (吳釗燮) told Ukrainian media that Taiwan is committed to maintaining sanctions on Moscow and that the country would take part in Ukraine's post-war reconstruction.
Taiwan has profound admiration for the resistance of Ukrainian armed forces and its people against Russia's illegal war of aggression, Wu said in a video interview broadcast on Espreso TV on Sunday with reporter Vitaly Portnikov.
Taipei has provided Ukraine with US$45 million of humanitarian assistance, including necessities, medicine and medical equipment, he said, adding that Taiwan would assist in the nation's rebuilding.
The Ministry of Foreign Affairs has contacted authorities in Kyiv, Kharkiv and Bucha, and the Orthodox Church of Ukraine to express its respect of and unshakable support for Ukraine, he said.
Taiwanese feel deep sympathy for Ukraine's suffering and have every confidence that Ukraine, with the solidarity of its people and international support, will prevail over Russia to liberate every inch of occupied territory, he said.
In response to a question about whether Taiwan sees parallels between the tensions across the Taiwan Strait and the Ukraine-Russia war, Wu said that China's ambitions do not stop with Taiwan and that Beijing has been brazenly expanding its military into the Indo-Pacific region.
Like-minded countries must stand in solidarity to check Chinese expansion, lest it threaten global peace and stability, he said.
Additional reporting by Lu Yi-hsuan


Source: Taipei Times - 2022/10/26