Taiwan should continue to enhance military preparedness and encourage the public to fight, as the Chinese Communist Party's (CCP) taste for risk-taking under Chinese President Xi Jinping's (習近平) consolidated leadership remains to be seen, Taiwanese analysts said.
The CCP's 20th National Congress concluded over the weekend with Xi retaining power for an unprecedented third term and stacking his government with loyalists.
US analysis and government figures have raised the possibility of Beijing developing the capability to attack Taiwan by 2027, with Washington pledging to provide Taiwan with the ability to resist invasion.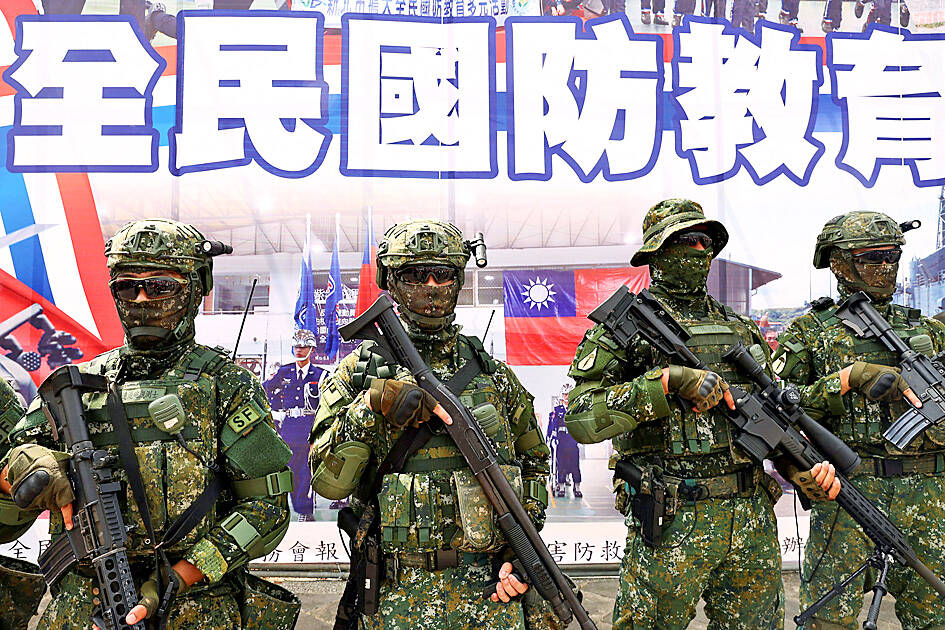 Soldiers pose during the annual Minan civil defense drills in New Taipei City on July 14.
Photo: Ann Wang, REUTERS
China has no chance of successfully invading Taiwan, National Security Bureau Director-General Chen Ming-tong (陳明通) told legislators last week.
If China makes a show of military force as early as next year, as some pundits speculate, it would be with the goal of forcing Taiwan to the negotiating table, Chen said.
Whether the installment of Xi loyalists to the politburo would accelerate military aggression toward Taiwan remains to be seen, Institute for National Defense and Security Research analyst Su Tzu-yun (蘇紫雲) said on Sunday.
Xi might prioritize consolidating his power in his third term, although there is the possibility he could redirect internal strife toward external conflict if his grip on power wanes, Su said.
The politburo also includes military figures with a background in Taiwan issues, including Central Military Commission Vice Chairman He Weidong (何衛東) and Eastern Theater Commander Lin Xiangyang (林向陽), Su said.
The CCP "is serious about its military preparations at this stage," he said. "We cannot afford to take them lightly."
An absence of dissenting voices in the Central Politburo Standing Committee of the CCP could increase the chance that inaccurate information could lead the group to engage in riskier behavior, institute analyst Shu Hsiao-huang (舒孝煌) said.
The Chinese People's Liberation Army (PLA) still needs two to three years to develop the amphibious warfare capability required to acquire Taiwan, Shu added.
Although the accuracy of PLA missiles has improved in recent years, "Taiwan is not Pearl Harbor," Su said, meaning that the possibility of defeating Taiwan in a surprise attack is low.
Military operations in other countries have shown that the tactical success of missile strikes is gradually becoming marginal in modern warfare, despite any psychological pressure they place on those being attacked, he said.
If the PLA is unable to win in a full-scale offense and must resort to a blockade or annexing outlying islands, international sanctions could take effect, he said.
The key to facing uncertainties is to strengthen defense capabilities and encourage the public to fight, Su added.
In addition to procuring armaments and improving training as planned, Taiwan must closely observe any unusual PLA activity and formulate measures to contend with emergent threats such as drone activity and helicopter incursions across the Taiwan Strait's median line, Shu added.


Source: Taipei Times - 2022/10/25