The US government is considering a plan to jointly produce weapons with Taiwan, Japan's Nikkei newspaper reported yesterday, citing three sources.
Washington wants to step up production capacity for US-designed arms and speed up their transfer as part of a move to bolster deterrence against China, Nikkei reported.
The report added that a person with direct knowledge of the US government's deliberations said discussions had begun, while a different source said it was likely to take some time.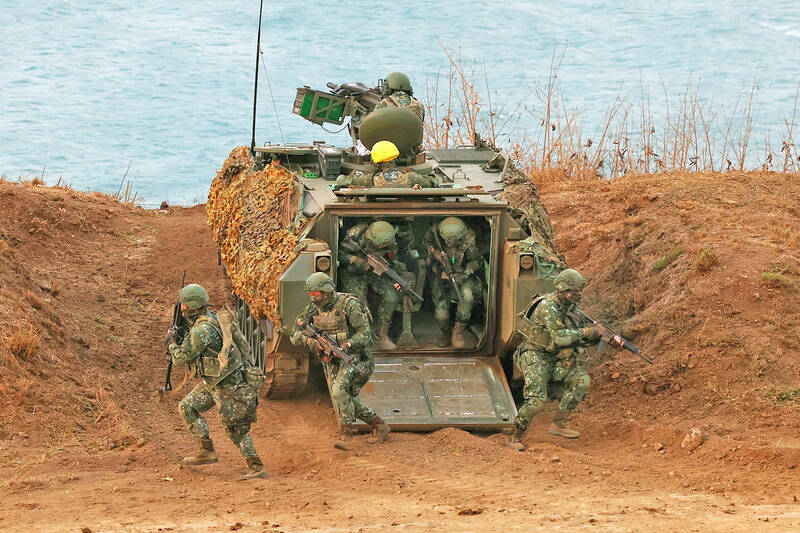 Service members stationed in Penghu County yesterday conduct drills with a CM21 armored vehicle.
Photo: CNA
Possibilities would include the US providing technology to produce weapons in Taiwan, or producing the weapons in the US using Taiwanese parts, the Nikkei added.
Taiwan's military would be "fully prepared" for any Chinese invasion whether Beijing decides to move up or push back a purported timeline to attack, Minister of National Defense Chiu Kuo-cheng (邱國正) said yesterday.
Chiu made the remarks before a meeting at the legislature when asked by the media to comment on US Secretary of State Antony Blinken saying on Monday that Beijing was determined to annex Taiwan on a "much faster timeline."
Blinken had been speaking with former US secretary of state Condoleezza Rice at an event at Stanford University.
"The military knows what it will have to do, whether in the next second or the next hour, while preparing for war. It will not sit idly by whether Beijing moves up or pushes back [its timeline to invade Taiwan]. It will have its own timeline, and it will pay attention to signs and make forecasts about possible developments accordingly," the minister said.
Chiu reiterated the need for the military to defend itself if it sustained a "first strike" from the Chinese People's Liberation Army (PLA).
"If someone tries to push you, you must dodge or deflect him," he said.
Meanwhile, Pentagon spokesperson Brigadier General Pat Ryder on Tuesday said the US would continue to focus on deterring China from taking military action against Taiwan in response to reporters' questions about whether China had moved up a purported timeline to invade Taiwan.
CIA Deputy Director David Cohen last month said that Chinese President Xi Jinping (習近平) had ordered the PLA to have the capability to take control of Taiwan by force by 2027.
US Under Secretary of Defense for Policy Colin Kahl on Aug. 8 said that the Pentagon had not changed its assessment that China would not take Taiwan by force in the next few years.
During Tuesday's press briefing, Ryder was asked whether the Pentagon's assessment had changed following Blinken's remarks.
Ryder said that the Pentagon would not speculate on a timeline other than highlighting recent remarks by Xi that China would take Taiwan by force if necessary.
The US' focus is on preserving stability and security throughout the Indo-Pacific region and would continue to concentrate on "deterring possible military action and calling on both sides to resolve these [sovereignty] issues peacefully" under Washington's "one China" policy, he said.
In related news, troops stationed in Penghu County conducted live-fire drills early yesterday morning that involved artillery and tanks.
The drills, a standard monthly exercise, began with the firing of flares using 105mm and 155mm howitzers and 81mm and 120mm mortars. Troops also fired 50mm machine guns and M249 light machine guns.
The drill concluded with M60A3 battle tanks and CM21 armored vehicles firing into the sea in a display of the army's defensive capabilities.
The exercises were held based on a scenario involving the Chinese military sending warplanes and warships toward Penghu after conducting live-fire drills around Taiwan proper.


Source: Taipei Times - 2022/10/20