The Inter-Parliamentary Alliance on China (IPAC) yesterday urged democracies to support Taiwan, rearrange supply chains and impose sanctions on Chinese officials, a day before the opening of the 20th National Congress of the Chinese Communist Party (CCP).
Chinese President Xi Jinping (習近平) is expected to secure a third term in power, showing that "the CCP has no intention of moderating its belligerent policies at home or abroad," the international group of lawmakers wrote in a news release.
"Xi's re-selection will also see a concentration of power not seen since the Mao [Zedong (毛澤東)] era, with the CCP's authoritarian rule transformed into a personal dictatorship," the alliance said.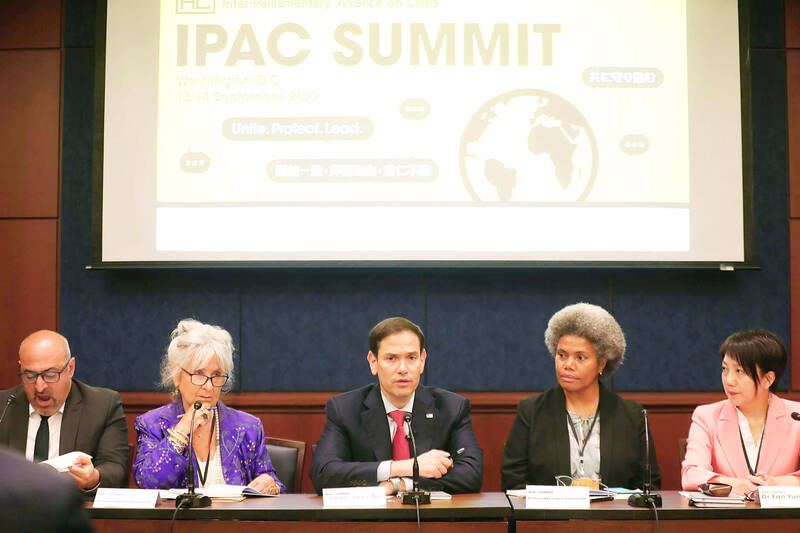 US Senator Marco Rubio, center, Democratic Progressive Party Legislator Fan Yun, right, and other Inter-Parliamentary Alliance on China (IPAC) members attend the annual IPAC summit in Washington on Sept. 14.
Photo: CNA
"The CCP under Xi's leadership has perpetrated industrial scale human rights abuses in the Uyghur Region, violated international agreements on Hong Kong's autonomy and provided tacit support to Russia's brutal invasion of Ukraine while ramping up military threats against Taiwan," it said.
Since China has shown no sign of easing its "oppressive policies," democratic countries are urged to "renew their efforts to safeguard human rights, democracy and the international rules-based order," the alliance said, calling for "urgent action" to counter Beijing.
Democratic governments should impose sanctions targeting Chinese officials responsible for carrying out repressive policies in the Uighur region, Tibet and Hong Kong, it said.
"Audits of supply chains dependency" must be conducted to ensure they are diverse, resilient and "untainted by forced labor abuses" in China, the alliance said.
Democracies are also urged to develop political and economic ties with Taiwan, "including through bilateral and multilateral trade and investment deals," it said.
Extradition treaties with China and Hong Kong must be repealed "to protect diasporic groups at risk of the PRC's [People's republic of China] transnational repression," it said.
IPAC is comprised of more than 200 lawmakers from national legislatures and the European Parliament, many of whom are sanctioned by Beijing. Lawmakers who signed the statement hailed from the legislatures of Albania, Australia, Belgium, Canada, the Czech Republic, Denmark, France, Germany, New Zealand, Norway, Sweden, Ukraine, the UK, the US, the European Parliament and elsewhere.
Separately, US senators Jim Risch, a Republican, and Bob Menendez, a Democrat, on Friday said that the CPP under Xi's rule has become "more active and more emboldened than ever before."
Menendez is chairman of the US Senate Committee on Foreign Relations and Risch is a ranking member.
"As the 20th Party Congress begins this weekend and Xi Jinping consolidates his power and preaches 'common development for all mankind,' the CCP's widespread campaign of oppression and economic instability will continue," they wrote in a joint statement.
"From its predatory economic behavior to the crushing of the religious and cultural autonomy of Tibet, its campaign of genocide against the Uyghur people, its unrealistic 'zero COVID' policies, and the imposition and exportation of digital authoritarianism — the Communist Party today under Xi is more active and more emboldened than ever before," they said.
China cannot claim to be committed to resolving the world's security challenges while threatening Taiwan with war and furnishing Russia with energy and metal to continue its war in Ukraine, they said.
"Xi securing a third term will only continue this path of repression, economic coercion, and regional instability," they said.


Source: Taipei Times - 2022/10/16