The US' commitment to the security of the Indo-Pacific region is "stronger than ever," US Representative Eddie Bernice Johnson said during a meeting with President Tsai Ing-wen (蔡英文) in Taipei yesterday.
"I am in Taiwan ... to remind the world that our commitment and shared responsibility for a free and secure Indo-Pacific region remains stronger than ever," said Johnson, who arrived on Sunday for a four-day visit and took part in Double Ten National Day celebrations in Taipei on Monday.
Describing Taiwan as "a vital trading partner" for the US and its allies, Johnson, who is chairwoman of the US House of Representatives Science, Space and Technology Committee, said that the US-Taiwan relationship is "essential to our national and economic security."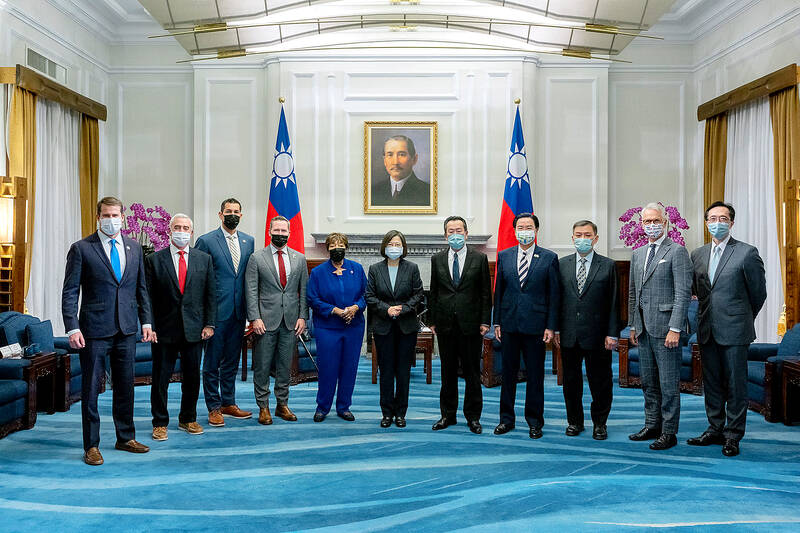 President Tsai Ing-wen meets US lawmakers at the Presidential building in Taipei, Taiwan yesterday.
Photo courtesy of Taiwan Presidential Office
The Democratic lawmaker from Texas also said that she looked forward to strengthening the bond between Taiwan and Texas, and "continuing my dialogue with President Tsai to create even more opportunity and a better future for our countries."
She mentioned in particular a plan by GlobalWafers Co (環球晶圓) to invest US$5 billion to build a plant in Sherman City, Texas, creating an estimated 1,500 jobs.
Johnson also said she discussed with Taoyuan Mayor Cheng Wen-tsan (鄭文燦) and other officials the possibility of Taiwan Taoyuan International Airport joining the US Customs and Border Protection's preclearance program.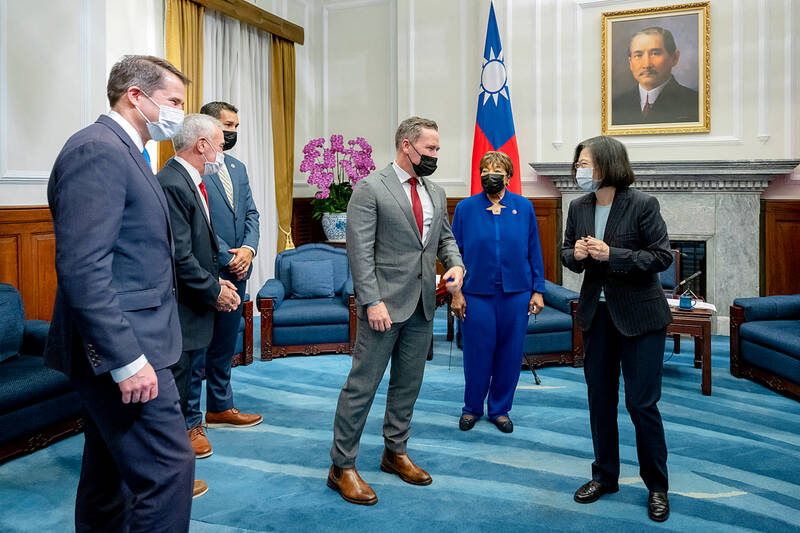 President Tsai Ing-wen meets US lawmakers at the Presidential building in Taipei, Taiwan yesterday.
Photo courtesy of Taiwan Presidential Office
Under the program, US customs officers are stationed at designated airports to screen travelers before they board US-bound flights, allowing them to bypass some inspections upon arrival.
Adding Taoyuan airport would make travel between Taiwan and the US smoother, as well as enhance communication and safety, Johnson said.
Also joining Johnson in the meeting with Tsai were four other US representatives, who arrived in Taiwan on Tuesday for a three-day visit — Democrats Seth Moulton and Kai Kahele, and Republicans Brad Wenstrup and Michael Waltz.
Echoing Johnson's comments, Moulton said the relationship between Taiwan and the US is founded on the shared values of freedom, democracy and the rule of law.
"We look forward to strengthening and deepening the economic partnership between Taiwan and America," he said.
As a soldier, Moulton said he learned to stand up for shared values.
Just like Ukrainians, Taiwanese are brave enough to defend their freedoms, he said, adding that he is honored to stand beside them.
Meanwhile, Tsai said Taiwan was willing to further deepen cooperation with the US and all democratic partners to contribute to regional and global peace and stability.
She also expressed hope that the visiting US lawmakers would continue to support Taiwan in the US Congress and back the signing of a double taxation avoidance agreement.
The Ministry of Finance in July said that Taipei and Washington had inked taxation-related deals, such as a transportation income tax agreement in 1988.
However, the two countries have not entered into a comprehensive and reciprocal tax treaty that includes the reduction or elimination of double taxation on individuals and businesses with operations in each other's country, the ministry said.


Source: Taipei Times - 2022/10/13